Jeff Sessions Joined A 'Lock Her Up' Chant Started By A Bunch Of High Schoolers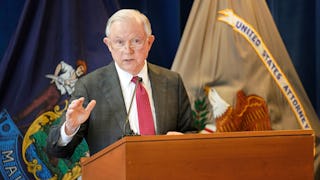 Image via Gregory Rec/Portland Press Herald/Getty Images
Attorney General Jeff Sessions joined in with a bunch of teens chanting "Lock her up" and laughed gleefully to boot
Attorney General Jeff Sessions, the highest ranking law enforcement officer in the country, was speaking at a conservative group's high school leadership summit today when the crowd began chanting, "Lock her up," a rallying cry during Trump's 2016 Presidential election, in reference to his opponent, Hilary Clinton.
Sessions is seen laughing at the teens' chant and then repeating the words himself — and the crowd's chant becomes louder and more fervent after he joins in.
"I heard that a long time over the last campaign," he said, smiling and laughing.
The chant, which was a regular occurrence at Trump election rallies, is meant to encourage the jailing of Hilary Clinton, based on her use of a private server and a number of missing emails related to political business while she was Secretary of State under President Obama. The offense was exhaustively investigated by the FBI and no charges were filed against Clinton.
During his campaign, Trump often promised to jail Clinton if he were elected, but after he took office said, "We don't care."
However, over the last 18 months, Trump has criticized Sessions for not appointing special counsel to further investigate Clinton. He did assign a federal prosecutor to looking into the legality of Clinton's past actions, though, again, no wrongdoing was found and no charges were filed.
Since Trump took office, at least six of his staffers have used private email servers to conduct business, with no legal consequences.
Jeff sessions said during his confirmation hearing last January that he had never participated in the chant, which would be inappropriate considering the results of the investigation and the total lack of charges against Clinton.
"No I did not. I don't think. I heard it in rallies and so forth, sometimes I think humorously done," CNN reported Sessions said.
Also during the speech, which was given during Turning Point USA's High School Leadership Summit at George Washington University, Sessions promoted free speech while criticizing "snowflakes" and the coddling of students. "After the 2016 election, for example, they held a 'cry-in' at Cornell," he said. "I hope they had plenty of tissues for 'em to cry on. They had therapy dogs at the University of Kansas. Play-Doh and coloring books at the University of Michigan for heaven's sakes. You know, give me a break. Students at Tufts were encouraged to 'draw' about their feelings. Well I can tell this group isn't going to have to have Play-Doh when you get attacked in college and you get involved in a debate. I like this bunch, I gotta tell you. You're not going to be backing down. Go get 'em. Go get 'em."
Responses to Sessions' encouraging the high school chant were mostly critical.
Chanting "Lock her up" is not only strange because the election is long over and Clinton was long ago cleared of criminal acts, but because Trump himself is under investigation for alleged multiple acts of wrongdoing, including collusion with Russia, campaign finance violations, the misuse of the Donald J. Trump Foundation, and, ironically, the deletion of thousands of pieces of correspondence. In addition, he has faced sexual misconduct allegations from 19 different women.
This article was originally published on