Jenna Dewan Is Pregnant With Her Second Child!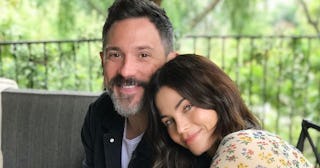 Jenna Dewan/Instagram
Jenna Dewan is expecting a baby with boyfriend Steve Kazee
Actress, dancer, mom, and all-around lovely human Jenna Dewan is expecting her second child — her first with boyfriend Steve Kazee. She's already mom to six-year-old Everly, the daughter she shares with ex-husband Channing Tatum. Now, the talented multi-hyphenate is having another little one, as confirmed by People.
Dewan and Kazee tell the mag, "We are beyond overjoyed and couldn't be happier to be expanding our family!" This will be Kazee's first child.
People notes that the couple was recently spotted together on the beach in Los Angeles and they're basically just freaking adorable.
The lovebirds have not been shy in expressing their feelings for each other on social media with Kazee sharing a sweet tribute to Dewan on Valentine's Day. "Somehow, inexplicably, I've been granted the honor to have this be the person that I get to be side by side with throughout this wild journey we call life. Jenna I don't know what I did to deserve your love but I will always be so thankful that our lives found their way to each other. Here's looking at you, kid."
He's too cute with all the lovey dovey pics of them together.
For her part, in June, Dewan captioned a snap of the pair, "Speaking of peace… " They're obviously over-the-moon happy, and a baby just makes it that much better.
Dewan's already been quite vocal in the past about how motherhood doesn't need to change you as a woman. "I think there's nothing sexier than becoming a mother," she says. "You give life. It's everything. And you don't change who you are inside just because you have a kid."
She clearly isn't feeling any less sexy after becoming a mom, and neither should anyone. We love her message, TBH.
Dewan's first time as a mom with Tatum was marked by sweet social media posts about little Everly and plenty of gushing tributes from her now-ex-husband. By all accounts, they are just working on being the best co-parents they can be. A few months after their split, she says they were still "getting used to" the whole co-parenting thing, but they're getting there. "We're in a very positive energy together, trying to be the best parents to Everly," Dewan explained. "We support each other."
This article was originally published on