The Internet Wants To Make Brad And Jen A Thing Again So Badly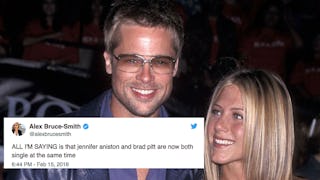 Image via Ron Galella, Ltd./WireImage
Jennifer Aniston announces divorce and the internet's already matching her up with Brad again
Butterfly hair clips. Saved by the Bell. Caboodles. The '90s were amazing, no question, but some things we're dying to have back are probably best left in the past. That includes Brad and Jen, you guys. Seriously, it's not happening no matter how much we want it to.
Even if they're both single again for the first time in years.
Jennifer Aniston and former husband Justin Theroux (who is one million times hotter than Brad Pitt, FIGHT ME) announced yesterday that they were ending their marriage of not quite three years. The news is sad, but it sounds like they intend on remaining friends and not much drama has emerged.
Almost immediately, Twitter lit up with fans hoping she will find her way back to Brad Pitt. The couple called off their marriage back in early 2005, but those shipping for these two never really stopped. Now, hopes of a reunion are at a fever pitch, as Pitt is also recently single following his divorce from Angelina Jolie less than two years ago.
Brad and Jen are single at the same time for the first time since Angelina. We are shook. But also? Maybe we need to get lives, because they both moved on 12 years ago, and we should too? But also? BRAD AND JEN.
DEEP BREATHS GUYS.
Like, we really should accept this is finito, y'all. The Rachel is way over. So is Brad and Jen. And yet…
OK, as much as I'm kind of rolling my eyes at people tweaking out over the possibility of a Brad and Jen reboot, I'd also be this if the actually got back together:
Same, TBH.
We may not use Sun-In spray or listen to Matchbox 20 anymore, but this part of the late '90s and early 2000s is possibly worth reviving. Long live Brad and Jen.
This article was originally published on