Jennifer Aniston Talks Dating And Marriage Because Interviewers WILL NOT STOP Asking Her
by Christina Marfice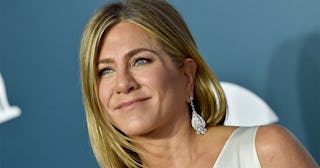 Axelle/Bauer-Griffin/FilmMagic/Getty
Will people ever stop obsessing over Jennifer Aniston's dating life and whether she wants to be married again?
It's now been three years since Jennifer Aniston split from her ex-husband, Justin Theroux. Her career is on fire, thanks the the much-hyped Friends reunion that just hit HBO Max, but does Jen want more than that? Is she interested in getting married again — and would she ever try online dating to find The One? And most importantly: is it any of our business, and will society ever stop obsessing over a famous woman's dating life and desire for marriage?
In a new interview with People magazine, Aniston made it very clear how she feels about making an online dating profile or swiping her way to love.
"No. Absolutely no," she said. "I'm going to just stick to the normal ways of dating. Having someone ask you out. That's the way I would prefer it."
Aniston was married to Brad Pitt from 2000 to 2005, before her marriage to Theroux, which lasted from 2015 to 2018. In her interview, she also addressed whether she's even interested in getting married again at this point.
"Oh God, I don't know. It's not on my radar," she said when asked. "I'm interested in finding a fantastic partner and just living an enjoyable life and having fun with one another. That's all we should hope for. It doesn't have to be etched in stone in legal documents."
It's a pretty refreshing take. When you think about it, marriage should never be the goal — you should just be striving to find someone who will be the right partner for you. And at the end of the day, what Jen does should be for Jen — not for any man, not for the public. She's chasing her own happiness, and you love to see it.
Still, that doesn't stop the public from speculating about Aniston's relationship status. She said she still struggles with rumors being printed about her in tabloids, and opened up about how therapy has helped her learn to live with some of the downsides of fame.
"Self-awareness is key," she said. "I've really gotten a lot out of therapy. Just being a public person, there's a lot of amazing things that come with that. But there's also a lot of tough stuff, because we're only human, and we tend to walk around with bulls-eyes on our heads."
What's really wild is that sometimes, she has to dispel rumors within even her own family.
"Sometimes you can't help family members or people sending stuff over going, 'What is this? You're having a baby? Are you getting married?'" Aniston said. "It's like, 'Oh, good gosh, when and how many years will it take for you to ignore that silliness?'"
At the end of the day, it sounds like Aniston is in a good place, and very happy with her life as-is — no man required.
"I have a job that I love, I have people in my life who are everything to me, and I have beautiful dogs," she said. "I'm just a very fortunate and blessed human being."