Jennifer Aniston Commemorates 2020 With An Ornament And People Freak Out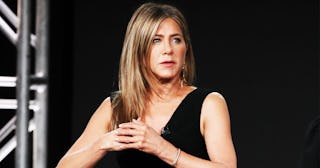 David Livingston/Getty
Fans are upset with one of Jennifer Aniston's Christmas ornaments, saying it comes across as tone deaf
Jennifer Aniston is in hot water with some of her fans after sharing an Instagram story on Friday with a Christmas ornament that's engraved with: "Our first pandemic 2020."
The Friends star didn't caption the photo so it's not clear if it's her ornament. Most believed it was and berated the actress for not having a bit more sensitivity around the subject. Others defended Aniston, saying she's used her platform more than most to promote mask wearing and small businesses that have been impacted as a result.
In the photo, she is seen holding a simple round wooden ornament engraved with the words "Our first pandemic 2020" on it. "Just because u like a celebrity, doesn't mean u should not hold them accountable," one Twitter user wrote. "I'm sorry but that's so insensitive to put an ornament saying 'pandemic 2020.' Innocent lives were lost because of this pandemic. We're not going to celebrate this shit. Do better Jennifer Aniston."
According to data from Johns Hopkins University, 1.76 million people in the U.S. have contracted the virus and nearly 332,000 have died. December marked the deadliest month in our country since the pandemic began, with more than 63,000 COVID-19 deaths recorded so far.
COVID-19 vaccines from Pfizer and Moderna have started making their rounds to states in the past week, marking a positive turn in the pandemic that's taken so many lives and livelihoods away from people all over the world.
Of course, there are two sides to every story. Many fans were quick to come to Aniston's defense:
"Jen aniston was one of the few celebrities that used her platform to ask people to support small businesses all around the US during christmas eve (while others were busy posting their fancy dinners) and she really got hate over ONE ornament? what??" one fan wrote.
Others commenting on the story admitted that they also bought similarly themed ornaments this year. There have been many showing piles of toilet paper, dumpster fires with 2020 on them, and similar items. All of these make light of the situation we've found ourselves in and all can be interpreted as offensive given what so many have lost, though I can't imagine they were bought with malice.
Aniston has been vocal about masks since the pandemic began, writing in June on social media, "I understand masks are inconvenient and uncomfortable. But don't you feel that it's worse that businesses are shutting down… jobs are being lost… health care workers are hitting absolute exhaustion. And so many lives have been taken by this virus because we aren't doing enough."
Seeing as Aniston shared the image of her Instagram Stories, it has now expired. She has not responded to the "controversy."