Jennifer Garner: I Thought Job Offers Would Go Away in My 40s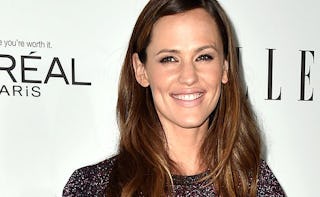 The actress, 42, talked to The Mid contributor Jeanne Wolf about motherhood, marriage, and surviving in Hollywood post-40.
What's something you've learned by having a family and a career?
As a working mom, I work really intensely for a while, but in a place where people are very respectful of me, which isn't always the case for women in the corporate world. Then I have time off and I have help, so I have the support that I need. In my husband, I have a great partner in raising the kids. Ben is super involved and there with me.
Do you feel pressure to be a great mom?
We all want to take care of our kids. We all want to do right by them, and we don't always get it right. Every day you have an opportunity to screw it up, but also every day you have a fresh start with your kids.
Does parenting ever get in the way of your relationship with Ben?
As far as I can tell, the rule with marriage is the less you talk about it the better. I will say that my parents have had 50 years in a really great marriage. I think that the best gift you can get as a child is to just watch your parents in a loving relationship. When you have little kids it's easy to lose each other and to just become business partners, just dealing with what needs to be dealt with at that moment. So it's kind of finding each other again, whether it's every day or every other day, just have a normal conversation.
Does being famous make it harder to live life the way you'd like?
I think that there is an innate struggle between who you are and who you were the minute before you became famous. You do see the world from a slightly different angle once you've been treated a certain way. There isn't any one answer. Fame means different things to different people. For me, it's a result of getting to do a job that I'm lucky to get to do. Being a celebrity is not something that I live for by any stretch. That's not the case at all. I come from a real family, that's the way I grew up, so my family was always going to come first. I'm also lucky to have a husband who has his feet on the ground.
You put a lot into the Parents Against Paparazzi campaign to keep cameras out of your children's lives and those of other stars.
I wish I could have done more earlier. I wish I had been more involved and more vocal. Now that my kids are living mostly without having their privacy invaded, I see how much better their quality of life is. I just bow down to Halle Berry for really standing up and saying, "Absolutely, our kids shouldn't put up with this."
Are you counting the passing years?
I don't sweat it that much. If I have it's because I'm always surprised to get a job, but I've been that way my whole life. I'm in my 40s and I still get jobs and I say, "Oh, look at that! I thought they were all going to go away," but they don't. They're different than they were, but they're appropriate to where I am now in my life, and it's all good.
This article was originally published on