Jennifer Garner & Mark Ruffalo Have Adorable '13 Going On 30' Reunion
by Cassandra Stone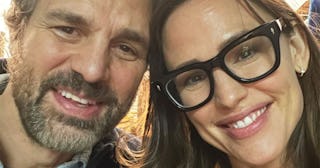 Jennifer Garner/Instagram
Be still our hearts: Jennifer Garner and Mark Ruffalo and a Razzles reference, oh my!
If you're ready for the cutest little photo you'll see today, prepare your early 2000s rom-com-loving hearts. And who better to give use this little dose of serotonin than Jennifer Garner and Mark Ruffalo.
In their most recent social media posts, Garner and Ruffalo played up the whole 13 Going on 30 reunion vibe by meeting up and posing together for a photo worth a million boxes of Razzles.
"Reconnecting with an old pal. Anyone know where we can get Razzles in Canada?" Ruffalo tweeted. And honestly, can we talk about this glow-up?! People get so bent out of shape about aging, but my God these two look absolutely stunning.
Garner also posted a photo to her Instagram account, writing, "Wishing dust worked! And I got a perfect day with my old pal."
Both Garner and Ruffalo are set to team up and star together once again in The Adam Project, a Netflix movie where they'll play the parents of Ryan Reynolds' character — and if that sounds kind of weird, you're not wrong. But it's because the film has 13 Going on 30 déja vu in that Reynolds' character travels back in time to find his 13-year-old self and get help from his parents to save the future.
What better duo to star in a time travel film than these two? They're pros.
The 2004 romantic comedy tells the story of Jenna Rink (Garner), a teenager who can't wait to grow up to live a "thirty and flirty" lifestyle. After being cruelly pranked by the group of mean girls known as the "Six Chicks" on the day of her 13th birthday, Jenna wishes she could be an adult.
Thanks to the help of some magical dust, Jenna wakes up a full-grown adult and a top magazine editor. By her side is Judy Greer as one of the Six Chicks all grown up. Ruffalo's Matty, Jenna's BFF from middle school, is now a hunky photographer but is estranged from Jenna as an adult.
The Adam Project just started filming in the fall, but it has major "favorite movie" potential.
Although "Mark Ruffalo and Ryan Reynolds playing father and son" should be enough to get you to care, here are some details about the upcoming flick. Already filming in Vancouver, The Hollywood Reporter shares that The Adam Project is a sci-fi adventure film that stars Ryan Reynolds as a guy who goes back in time "to get help from his 13-year-old self. Together, they have to find their late father, who is now the same age as Reynolds, and set things right in order to save the future."
Last spring, Ruffalo commemorated the film's 16th anniversary. "Happy Anniversary to 13 Going on 30 today! Remember what the world was like when Razzles were all the rage? Missing that time," he wrote.
Jenna and Matty forever.