Jennifer Garner Reading 'Go The F@#! To Sleep' Is Your New Favorite Thing
by Maria Guido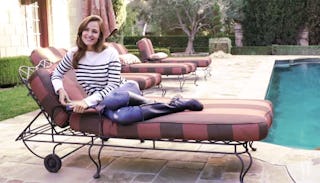 Jennifer Garner reads "Go The Fuck To Sleep"
Go The Fuck To Sleep is a "children's" book that came out last year — that's totally not for children. It puts a twist on the classic bedtime story. The twist? How fucking annoying it is to get kids to sleep.
By this point you've probably read the book a few times yourself (not to your kids) and even seen a dramatic reading by Samuel L. Jackson. Then there's the reading by Morgan Freeman. No one has done this book as much justice as Jennifer Garner just did in a video produced by Vanity Fair. We've been waiting for the annoyed-as-hell-mom-perspective.
We got it.
The eagles who soar through the sky are at rest
And the creatures who crawl, run, and creep I know you're not thirsty. That's bullshit. Stop lying. Lie the fuck down my darling, and sleep.
The wind whispers soft through the grass hon.
The field mice they make not a peep. It's been 38 minutes already, Jesus Christ. What the fuck? Go to sleep.
The owls fly forth from the treetops
Through the air they soar and they sweep A hot crimson rage fills my heart love, For real, shut the fuck up and sleep.
Because, let's admit it. Our little cherubic angels are annoying as hell at bedtime. Who among us hasn't completely lost their shit?
A genius nine bucks.
This article was originally published on