Jennifer Garner Responds To Troll Who Asked If She's Pregnant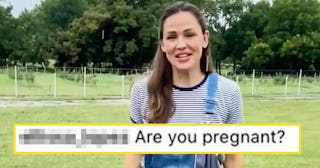 Jennifer Garner/Instagram
Jennifer Garner had the perfect reply for a troll who asked if she was pregnant
Hello and welcome to my Ted Talk called Don't Ever F*cking Ask A Woman If She's Pregnant Unless A Baby Is Literally Falling Out Of Her. I think my imaginary BFF Jennifer Garner would definitely approve, as she's just come off an interaction with an Instagram douche who asked her if she's pregnant based on a brief video where she was wearing a baggy pair of overalls.
It's honestly a miracle women haven't entirely lost it yet.
Garner shared an adorable video where she introduced the cows on her family farm. "My family farm is, as the kids say, my organic, biodynamic happy place," she writes in the caption. "I can't help but feel like the love my Aunt and Uncle put into growing this year's sweet potato crop will add to @onceuponafarm's delicious goodness for your kids. But first—meet our lawnmowers: Simon, Pete, Boaz, Pignut, Mistletoe, and Mayapple."
Couple things here. First, Jennifer Garner is an angel on earth who we must protect at all costs. Her Instagram is a never-ending delight and a source of joy, especially during these uncertain and frankly dumpster fire times. Second, she looks utterly adorable. Third, people are the worst and even knowing all of that, someone still felt the need to rain on Jen's cute farm post parade.
Comments By Celebs memorialized the interaction between Garner and the jerk who decided she must be expecting if her stomach briefly appears anything other than washboard flat. The woman asks, "Are you pregnant?" Garner replied, "I am 48, have three healthy kids, and am not — and never will be — pregnant. We can lay that pupper to rest. Have a [sic] gained the Covid 19? Possibly. But that is another story."
We honestly don't even deserve her. Not only did she refrain from giving this jerk the angry reaction her shitty comment deserved, she managed to keep it light and a little self-deprecating. She also shrugged casually at the notion she may have gained a little weight while dealing with a global pandemic, as she should, because gaining weight is really not a big deal nor is it a reason to feel shame. In short, her reply was perfect.
So can we all agree in the year of our Lord 2020 that we need to stop asking women if they're pregnant? The potential for hurt here is huge. What if a woman recently miscarried and still looks a bit pregnant? What if a woman can't have kids and is simply a tad bloated? It's invasive and ridiculous and presumptuous and flat-out rude. There is legit no excuse. If a woman is pregnant and wants it known, she will make that happen. Until then, kindly STFU and discuss any number of other, less potentially offensive topics.