Jennifer Lawrence Texting Amy Schumer Is All Of Our Childless Friends Not Accepting We Have Babies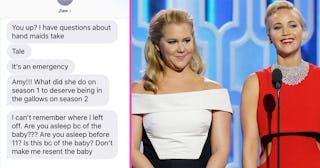 Amy Schumer/Instagram and Paul Drinkwater/NBCUniversal/Getty
Jennifer Lawrence texting Amy Schumer about not being up at 11 PM anymore is all of our childless friends
Most parents have had this experience: you have a baby, your whole life changes, and your childless friends just don't quite understand that your world has been turned upside down. Of course we will still be there for you, and of course we will still love you and be your friend, but let's face it: we can't text about Handmaids Tale absolutely whenever like we used to.
In this fine example of how celebrities are just like us, Amy Schumer posted a text conversation between her and buddy Jennifer Lawrence on Instagram last night that shows that everyone is susceptible to post-baby adjustments, even A-list Hollywood stars.
"You up," Lawrence asks Schumer. "I have questions about hand maids take. Tale. It's an emergency."
When she's met with radio silence, Lawrence loses a bit of her cool.
"Amy!!! What did she do on season 1 to deserve being in the gallows on season 2? I can't remember where I left off. Are you asleep bc of the baby??? Are you asleep before 11? Is this bc of the baby? Don't make me resent the baby."
After another pause, she seems to grasp, for real, that her friend has not only created new life, but that she now has to go to sleep whenever she can.
"Wow, Ur really asleep before 11. I'll be damned."
Soon, though, Amy responds, explaining that she's not totally unreachable just because she's a new mom. She's just a little slow.
"Hi! I'm awake!"
…and then she adds the info that Lawrence needed so badly to continue her Netflix binge.
"She ran away."
In full comedic style, Schumer posted the conversation with just one little extra comment:
"Everybody keeping their cool about me having a baby," the Growing stand-up star added in blue ink.
Lawrence should also have known that her new mom friend is also having trouble even watching Handmaid's Tale these days, as she posted on her Instagram two weeks ago. The comedian shared an adorable picture of mother and son resting together with a hilarious caption:
"Oh ok so I can't watch handmaids anymore."
She added the hastag, #filledwithregret, and all new parents nodded in understanding at how sensitive we become to violence and conflict after having a baby.
Schumer has been a hero to new moms everywhere since she announce her pregnancy and then after she gave birth to her son, Gene Attell. Her honestly and humor about everything from morning sickness, to disposable underwear to pumping has been not only hilarious, but refreshingly wonderful, especially as many Hollywood stars stay quiet about their struggles, only post the most perfect pictures, or rush to lose their baby weight in weeks after they give birth.
Her real talk isn't just a breath of fresh air, it's also thoughtful and compassionate and fair — her exchange with Jennifer Lawrence is warm and funny and accepting, while also talking openly about how relationships shift after kids. It's exactly the commentary on parenting, or not parenting, that we need right now.