Jlo And ARod Adorably Gush Over Each Other On Insta For Their 2nd Anniversary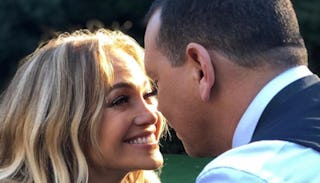 Image via Instagram/Jennifer Lopez
J. Lo and A-Rod are ridiculously cute and in love as evidenced by their Instagram posts about their two-year dating anniversary
As Valentine's Day barrels toward us, let's take a moment to be reminded of the most perfect, beautiful, wealthy, famous couple on the celebrity A-list, who also happen to be deeply, madly in love: Jennifer Lopez and Alex Rodriguez. They celebrated their second anniversary of dating yesterday, and their Instagram posts alone were more adorable than a puppy with a heart-shaped box of chocolates in its mouth.
J. Lo posted first, leaving nothing on the field.
"Two years of laughter/Two years of fun/Two years of adventures/Of excitement of growing and learning/Of true friendship/And so much love," she wrote to start off her post. "You make my world a more beautiful safe and stable place… in the midst of our ever-changing, ever-moving life… you make me feel like a teenager starting out all over again… Every time I think I have you pegged, you surprise me in the most wonderful ways reminding me how blessed I am to have found you now in this moment at this time… our time… Te Amo Macho…"
Her post included five adorable shots: one of them as a couple, staring into each other's eyes, one of their blended family of six during the holidays, and three of A-Rod alone and looking good – ostensibly from J. Lo's camera and perspective.
A-Rod fired back with an off-the-charts cute post about his girl, as if they were in some sort of competition to out-adore each other.
"I can't believe it's been two years. Only 730 days, which have flown by, but it feels like we have been together forever," he begins. "We are meant to be, and how much you mean to me cannot be put into words. From baseball games, to traveling across the world to shows in Vegas. We have done it all together and every moment with you is cherished. Where this road will take us next is unknown but there is no one else I would rather have by my side. The journey is just beginning and I am excited for what's ahead."
As if that wasn't enough, he goes from singing their praises as a couple to singing Lopez's praises as a person.
"Macha, your hard work is unmatched. Your relentless drive and determination push me to be a better man each and every day. Like you there is none other. Words will never do justice to what the last two years have meant to me. Thank you for always being you, for your unwavering support and unconditional love. Te amo mucho, Lola."
He shared the maximum allowed ten Instagram photos in his slideshow, starting with a family picture and including an adorable video of the couple making breakfast together in matching plaid pajamas.
This is far from the first time the couple has gone Instagram crazy for each other. A-Rod hit a birthday message home run with J. Lo last summer, too.
The couple met originally at a baseball game in 2005, when Lopez was married to singer Marc Anthony and Rodriguez was married to Cynthia Scurtis. Although there was a buzz of chemistry, neither were single at the same time and ready to date again until 2017, when J. Lo broke things off with Drake and A-Rod ended a relationship with CEO Anne Wojcicki.
Since then, they've enjoyed a whirlwind romance where things have gotten serious fast. They spend much of their off time together, and quickly started taking trips and spending holidays with their adorable blended family.
There are even rumors of an approaching engagement – but something tells us that when that happens for real, we will hear all about it on Instagram from both of them.
Bring. It. On.
This article was originally published on