JLo Found The Fountain Of Youth And She's Hoarding It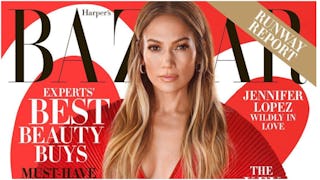 Image via Harper's Bazaar/Instagram
Jennifer Lopez completely slayed her latest photoshoot, proving once again that she's the fiercest of them all
Not that you need any reminders, but Jennifer Lopez is a magical, stunning, ageless angel. The 49-year-old was on the cover of the latest Harper's Bazaar and the spread was literally one completely fire picture after the other. She also got very candid about motherhood and love and said all sorts of relatable things that will make you feel very, very much not alone.
Caution: there's a lot of hotness up ahead. Let's start with the cover because it'll make you want to go home immediately and rewatch Maid In Manhattan (with a possible double feature of Selena).
Also, literally only Jennifer Lopez could rock a half bathing suit/half fancy shirt combo.
Also…just like…HOW. HOW?
The temperature has officially gone up about 1,000 degrees.
Okay, now that we've sufficiently drooled over J.Lo and probably googled her exact fitness and beauty regimen – let's get down to the really important stuff. Namely, the thoughtful, incredibly honest interview she gave to the magazine. The singer/actress/producer opened about about past romances and the important lessons she's learned from her famous breakups.
"For me, the relationship journey has been very up and down," she said. "But it didn't have to do with anybody else but me—it was about me figuring out me. Until you learn to love yourself, you can't completely love [someone else] in a way that is pure and true. Once you do that, you can have relationships that are based on love and respect, that are supportive and nourishing."
Yesss to all that.
Lopez also discussed how motherhood shaped her and made her a healthier, stronger version of herself.
"Once I had kids, I realized that I had to be better and do better. Not just for them but for myself. There's something about being responsible for another human being that makes you go, 'Okay, what am I doing for myself? How can I take care of someone else if I can't even take care of myself? How can I teach them how they should be treated if I allow people to treat me in a way that's not nice? How can I teach them to be hard workers if I'm not working hard?'" she said. "I started examining myself from all different angles."
Three cheers to J.Lo for being completely fierce and incredible from the inside out. Now, off to that Maid In Manhattan marathon we discussed…