JLo Responds To Those Who Thought Her Super Bowl Performance Was 'Too Sexy'
by Valerie Williams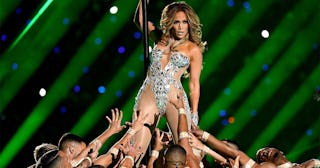 Kevin Winter/Getty
JLo isn't exactly losing sleep over those who thought her Super Bowl performance was "too sexy"
It's hard to believe that the Super Bowl performance that got the whole world talking was only a week ago, but here we are. In case you've been living on a deserted island for the last eight days or so, let us catch you up: Jennifer Lopez and Shakira absolutely nailed their Super Bowl halftime performance and most viewers seemed to agree — but of course, some folks were clutching their pearls because of the performers' sexy outfits and dance moves. Now, JLo is speaking out about her thoughts on the critics and basically, she's out of cares — and it only makes us love her more.
Lopez was at the Independent Spirit Awards on Saturday where she was nominated for Best Supporting Female for her role in Hustlers. On the red carpet, she told Variety her feelings on the Super Bowl "controversy."
"I think that's honestly silliness," she said. "Both of us are really respectful performers who are moms and have kids and are very conscious of what we do. We (put on) a show that I believe was a celebration of women and our Latino culture that I think was really well reserved. And that small faction of people who want to be negative about it, I can't even let in."
Can't. Even. Let. It. In. Hell yes. This is JLo's time and world and we're just lucky enough to live in it.
Because her performance wasn't just about sexy outfits and dancing. It also featured a children's choir, amazing athletic feats (hello, have you tried pole-dancing?) and Latina women showing the world their Colombian and Puerto Rican heritages through their music. It was nothing short of astoundingly good and to those who can only focus on how "inappropriate" it was, you're missing the point. "The message of standing up for yourself, being a women – that's what I want to pass on to little girls – everything about you – be proud of it," she tells Variety. "I'm very proud of the performance that night."
Just watch them immediately after bringing down the house. This is two brilliantly talented women who are rightly proud of their incredible performance. There are only good things here, people. Take the negativity elsewhere.
Perhaps Lopez's post featuring footage from moments before she went on the Super Bowl stage best sums up her intentions: "All I want my girls, the little girls on stage with me and all over the world to know is how to use their voices and be proud of everything they are. We are proud to recognize that all of us together are what makes this beautiful country truly great."
Thankfully, JLo seems totally unbothered by the haters who can't see the real meaning behind her groundbreaking performance.