Jennifer Lopez Shares Sweet Throwback Photo Of Her Twins On Their 12th Birthday
by Kristine Cannon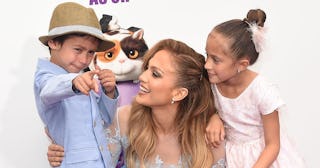 Jason Merritt/Getty Images
'You will always be my babies,' Jennifer Lopez captioned the adorable photo
It's no secret: Jennifer Lopez adores her children, twins Maximillian David and Emme Maribel. The superstar has never been shy to share not only how much she loves them, but also just how talented they are, especially when it comes to their singing. Every few months, if not more frequently, Lopez takes to Instagram to share videos of her twins belting it out. And, of course, we won't soon forget the incredible job Emme did taking the daunting Super Bowl stage. So, it comes as no surprise that Lopez would take to Instagram today — the twins' 12th birthday — to post a very sweet, very special throwback photo of Maximillian and Emme as babies.
"I know you're 12 years old today, but you will always be my babies," Lopez wrote alongside the photo of the twins dressed in the most adorable pastel-hued gowns. "HAPPY BIRTHDAY TO MY BEAUTIFUL COCONUTS!!!"
Lopez told People in December that become a mother completely changed her life — for the better, of course.
"Them being born led me in a different direction," she told the publication. "I was being careless with myself and my heart. The kids kind of snapped me right [out] of it because I felt so much responsibility and love for them. Love first and responsibility second. I just knew I had to be better."
Lopez shares Maximillian and Emme with ex-husband, Marc Anthony. But as of March of last year when her now-fiancé Alex Rodriguez popped the question with a $1.4-million engagement ring, the Lopez-Rodriguez family now consists of four kids: Maximillian and Emme, and Rodriquez's two daughters, 15-year-old Natasha and 11-year-old Ella, whom he shares with ex-wife Cynthia Rodriguez.
Since, the kids have been inseparable. In September, JLo and A-Rod even had their entire blended family present for their engagement party in Los Angeles. "We all just grow closer," Lopez also told People. "When we got engaged, they were super happy … They know there is nothing but love for them always."
While the family is seemingly perfect as-is, Lopez teased in December that she'd consider having a baby with A-Rod. "I want to!" she said. "I don't know that it's in God's plan, but I would like to try. I'm so open to it!"
This article was originally published on