Actress Jenny Mollen Shares Very Real C-Section Selfie And We're Here For It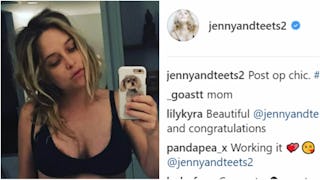 Image via Instagram
Moms everywhere are praising Jenny Mollen's post-op selfie
There used to be a time when we'd only see the airbrushed, rose-colored, and filtered version of childbirth and postpartumness. Thanks to moms like Jenny Mollen, we're seeing the other side. The very real side.
The actress just posted a post-birth selfie that moms everywhere can relate to and it is so damn refreshing. Mollen shared a photo of herself on Instagram in a black bra, bandages across her belly, and mesh underpants. The caption: "Post op chic." Look familiar mamas? It surely will, especially for those that had C-sections.
She's even still sporting her hospital bracelets, which is typical because new moms have no time for anything including cutting off said hospital bracelets. It's just all part of the post-birth fashion.
Undeniably, there is something so relieving and cathartic about seeing a woman be unfiltered about their experience with childbirth and motherhood. Many commenters praised Mollen for her realness.
"Nothing like those hospital undies! All the sexiness. Thanks for showing the reality that is post birth."
"This is motherhood..this is tired…this is amazing..this is real…"
"Beautiful. Thank you for sharing the truth!"
Many also congratulated the family and sent encouraging words.
Mollen gave birth just days ago to her second child, Lazlo, who joins big brother Sid. She is married to actor and comedian Jason Biggs from American Pie.
Throughout her pregnancy, the actress has been candid about her experience. Before giving birth to Lazlo she recently shared her struggle with pre-partum depression.
"Prepartum Depression… it's what often happens to expectant moms who are awake in the world," she wrote. According to People, she said she was grappling with emotions that aren't "addressed enough."
She told the magazine a few weeks before she gave birth that she was ill from the stress of having another baby, "Because having a baby is the scariest f—ing thing that could happen to a woman," she said.
Mollen also revealed that after giving birth to her now-3-year-old son Sid, she told everybody "that it felt like I was coming off of cocaine."
"It was just like the craziest comedown of my life," she added. Anyone that's felt that sharp dive of pregnancy hormones after childbirth knows this feeling. It is fucking brutal.
When the 38-year-old actress and author talked about why she believed she was depressed she told People, "Maybe because I know what to expect this time, it's almost happening sooner, like I'm already going through the motions of [this] insane life-changing experience."
She also had some great advice for her fans about their emotions after giving birth.
"You'll be shocked at how fast you'll wake up one day and be in the darkest place," Mollen said. "The only way your kid is going to be healthy and happy is if you are healthy and happy. So, make that the priority."
For moms everywhere, this woman is a rock star. We only hope she keeps bestowing these candid dispatches from motherhood upon us, making us all feel validated and normal.