Jessica Alba's Instagram Post About Ditching Her 'Pregnancy Hair' Is Relatable AF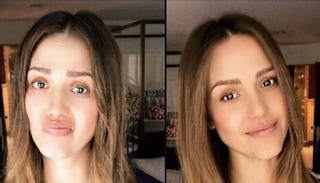 Image via Instagram/Jessica Alba
Alba shared her post-pregnancy haircut on Instagram
There are some celebrity moms who get pretty real about the whole pregnancy and parenting thing. Instead of Beyonce-like pregnant goddess pics (which we still love, TBH) they tell it like it is for those of us without unicorn genes. One of those moms is Jessica Alba, and we love her for being very willing to admit that pregnancy isn't all sunshine and rainbows.
Sometimes, it's just terrible hair.
Pregnancy hair is a funny thing. For a few wonderful months, those glorious hormones help you grow a luscious mane like you've never had before. As I gained a bunch of weight, sprouted one million stretch marks, got random zits, and belched my way through months of miserable heartburn, the one thing that actually improved during pregnancy was my hair. And after my kids were born? A ton of it fell out and what was left looked stringy and lifeless. By the time my babies were a few months old, my locks had seen better days — and Alba totally gets it.
"..it feels sooo good to shed the pregnancy hair," she writes, along with a side-by-side of her hair before and after a good chop. And honestly, it feels amazing to get rid of it. Not only do you experience hair loss after pregnancy thanks to the serious drop in hormones, it can also be tough for a new mom to have the time or ambition to take a trip to the salon. When I was up all night nursing my son, the last thing I felt like doing during the day was finding time for a hair appointment and then actually putting on pants to leave the house. It's not as easy as it sounds, for sure. But it's so worth it.
Since the birth of her third child, three-month-old Hayes, the actress and businesswoman has been pretty candid about that hot mess mom life sharing photos of low-key snuggle sessions with her little guy and getting very real about breastfeeding in a Target dressing room. As far as celebrity mommas go, Alba's about as relatable as it gets.
Which is why we're cheering that she got a minute to herself to ditch that seen-better-days pregnancy hairdo. You glow, girl.
This article was originally published on