Jessica Biel Recorded The Sweetest Video For Justin Timberlake's Last Tour Show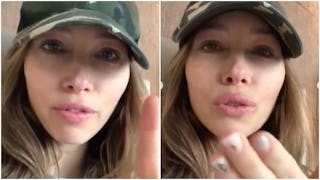 Image via Instagram/Jessica Biel
Jessica Biel made a secret video for Justin Timberlake to congratulate him on the end of his tour
Need a nice pick-me-up as the weekend winds down? Jessica Biel recorded the sweetest video message for Justin Timberlake to celebrate the last show of his tour and it'll make you feel all the good and warm and fuzzy things.
Biel secretly shot the video while Timberlake was in the other room and expressed just how amazed she was by all his accomplishments.
"I would say that I'm so proud of you but I feel like that's the understatement of the century and that somehow that I take ownership to what you've done this past year-and-a-half," she said. "I'm just in absolute awe of you every night to see you up there in your glory doing what you've been put on this Earth to do."
Biel added that Timberlake "inspires" everyone around him to work as hard and as passionately as he does. "You are truly a sight to behold. I'm so happy that you're going to get some time off. I'm so happy for you and for us," she said.
The actress called herself her husband's #1 fan and told him that she loves him. "You make my heart burst with joy and love when I see you doing your thing baby," Biel concluded.
If you're feeling all sorts of verklempt, you're not alone. Timberlake responded to his wife's message on Instagram, writing: "I mean… I'm not crying. You're CRYING! I can't with this message. I love you so much."
Yup, JT+ JB have officially won all of the Couple of the Year awards.
If you need some more truly solid gold romance, there's a whole lot more where that came from. Like, this moment between Timberlake and Biel while he was performing:
Or this very, very cute snapshot:
Or this butt grab:
Or this birthday message that Timberlake penned to Biel on Instagram. "You make me smile, laugh, and love life more than I knew I could," he wrote. "I cherish every moment with you and can't wait to spend so many more years doing the same… but, new."
Well, I guess these two have cemented themselves as the world's best celeb couple. I'm only, like, 8/10 on the jealousy scale right now.