Jessica Simpson Just Shared Pics Of Baby Birdie And Her Cheeks Will Make You Ovulate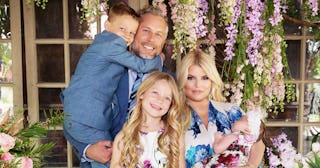 Jessica Simpson via Instagram
Jessica Simpson gave fans their first real glimpse at baby Birdie and she's unbelievably cute
Hold on to your babymakers, y'all. Jessica Simpson just shared new photos of her third child, Birdie Mae, and they're so cute it might make you want to expand your family. You've been warned.
Simpson gave birth to hew new daughter a month ago, but aside from one photo to announce that the little one had arrived, she hadn't shared any other pictures of the infant. That all changed over Easter weekend when the star kicked things off by posting the first image fans have seen of the brand-new family of five all together. "Happy Easter from the Johnson Family, Party of 5!" she writes.
In the family pic, baby Birdie, nestled in her mom's arms, isn't so easy to see (though her perfectly plump cheeks could probably be seen from space, we're literally dying), so Simpson blessed us with another shot from the family's Easter holiday that featured a much closer peek at this angel.
I thought I was done having kids but like, maybe not? LOOK AT HER.
Proud big sister Maxi Drew looks so sweet doting on little Birdie and our entire hearts are currently bursting.
We actually hadn't heard much from Simpson since the March 19th birth of her third child, which, bless. Recovering from childbirth is a full-time freaking job, and if Simpson didn't feel like updating her Instagram (or just didn't have the time), we 100 percent get it.
But a few days ago, she returned to the platform to let the world know that she's starting to get her pre-baby groove back. "The resurfacing of cheekbones," she captioned a cute selfie.
Oh, and she did post to let us know that pumping milk for little Birdie is going exceedingly well, and every mom who's ever hooked herself up to one of those machines completely gets her pride.
That post-baby excitement is even more understandable if you followed Simpson's pregnancy posts, which were hilariously relatable. Like that time she leaned back on the toilet — and broke it.
Or the fact that her pregnancy heartburn was so bad it necessitated sleeping upright in her very own "sleep recliner."
And that time she tackled the #tenyearchallenge by showing just how much had changed since she was child-free and not at all painfully bloated.
Knowing that even celebs with every resource imaginable struggle with common pregnancy problems is pretty comforting. It's Simpson's constant honesty about things not always being perfect in Momsville that keeps us coming back for more –and rooting for her when the news is this good.