Jessica Simpson's Impressive Photo Of Breastmilk 'Success' Is #Goals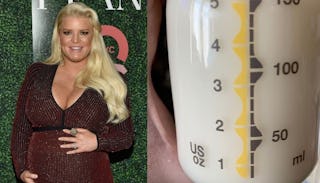 Image via Eugene Gologursky/Getty Images
Jessica Simpson's boobs are milk machines and she is rightfully proud of it
Jessica Simpson is a new mom again for the third time — and while that means she's likely no stranger to the postpartum breastfeeding rollercoaster, she's showing us all what "success" looks like when you're nursing. And for two weeks postpartum, she's doing pretty damn good.
Birdie Mae Johnson, the newest member of the Simpson/Johnson family, was born on March 19 and comin' in hot at nearly 11 pounds. Since the birth, Simpson has understandably been somewhat quiet on social media, but came on yesterday to show us exactly what she's been up to.
"This is what success feels like," she captioned her latest Instagram post, complete with cow emoji.
https://www.instagram.com/p/Bvw3DEmD9-u/
If you've ever breastfed or are currently breastfeeding, you know the power of this image. It's impressive, damn it, no matter what stage of nursing you're in, but especially in those early days when I personally could barely find 20 free minutes to pump anything because my baby was literally just on my boobs all time.
And if you didn't have this kind of luck, please don't feel bad about it. This is an exceptionally full bottle and none of us have control over how much we produce. But we all probably looked at that image and thought "Oh God please don't spill that" while clutching our own chests.
Plenty of people chimed in on the photo of Simpson's liquid gold, too:
One of the best things about Jessica Simpson is how she documented this last pregnancy. She was swollen, uncomfortable, and even broke a toilet seat. In other words, she was exactly what we non-celebrities are when we're pregnant, and she was honest and in good spirits about sharing it.
https://www.instagram.com/p/BtzcpUwjDAl/
Her entire pregnancy attitude can be summed up in one phrase: "IDGAF."
My personal favorite moment from her pregnancy was when she posted this extremely painful-looking, extremely relatable photo of her poor, swollen feet just days before her baby shower.
I was heavily pregnant during the summer months the first time around, and I'm now due with my second at the end of August, so for me, this is Extremely Relatable Content. I was wearing flip-flops in October the last time, and even those left horrible red indentations on my poor feet every day — but I worked in an office back then and sadly could not show up to work in barefoot bologna feet.
Simpson shared recently that she gave birth via C-section and that she had to remind herself to take it easy because it is, after all, major surgery.
"I think we all get so carried away with the excitement of having a new baby that we forget that we are going in for major surgery," she wrote. "Then on top of that, we get home from the hospital, have to recover from the surgery, balance our new life as a parent to three kids and be a wife."
As for breastfeeding, I did that too and was lucky enough to successfully do it for 13 months. But I also had one of those "The Little Boob That Couldn't" situations. My left boob was a powerhouse and my right one…well, I was lucky if it squicked out more than an ounce and a half most days.
More than five ounces only two weeks post-birth? Yeah, that's a victory worth documenting. Though everything she documents is worth it, tbh.
This article was originally published on