Jessica Simpson Shows Off Brag-Worthy Milk Stash On Instagram
by Cassandra Stone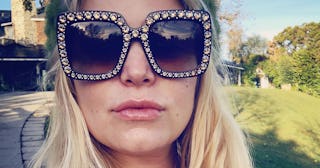 Jessica Simpson via Instagram
Let's just say Jessica Simpson's baby, Birdie, won't be going hungry any time soon
Bless you, Jessica Simpson, and your A+ New Mom Instagram Content. Because so many of us can relate to exactly what she's been going through — and even if some of us can't, her social media posts are always entertaining. Take her latest post showing off her impressive breastmilk collection, for instance.
The singer and entrepreneur shared a whopping frozen stash that is sure to bring a tear of envy and pride to the eye of every mom who's ever nursed. "I'm starting to think we should add breast milk to the Jessica Simpson Collection," she captioned the amazing photo.
I MEAN. THE AUDACITY OF HER BREASTS, RIGHT?
This isn't the first time she's shown exactly what it's like to be a new, nursing (and pumping) mom.
Birdie Mae Johnson, the newest member of the Simpson/Johnson family, was born on March 19 and comin' in hot at nearly 11 pounds. When she was just a few weeks old, Simpson perfectly summarized the mindset of being a newborn mom.
It's impressive, damn it, because breastfeeding is hard. I know I was "lucky" enough to have my boobs turn into literal geysers (that led to a wicked case of reflux because moms truly can't have nice things) and even I didn't have a stash like that. Bow down to the Boobs Of Jessica.
Because she's funny as hell and determined to keep it real during her postpartum life, Simpson also showed us exactly what it looks like when a mother of three who recently endured a C-section to deliver a nearly 11-pound baby tries to work out (after the appropriate amount of "healing time," of course).
"Just stretching it out in my rubber corset," she writes. "The joy of postpartum." LOL. Ain't it the truth, though. It takes forever before you finally begin to feel like your normal self after having a baby, and even when you do you're never totally the same as you were before each new addition came into the world.
Jessica Simpson is famous and beautiful and richer than most of us could ever hope to be, but she is an absolute delight to follow on social media — from pregnancy to postpartum and everything in between, she nails it.