'I Spy... My Ankles!': Jessica Simpson Shares Post-Pregnancy Foot Pic
by Madison Vanderberg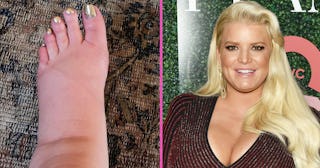 Jessica Simpson/Instagram and Eugene Gologursky/Getty
Jessica Simpson closed the door on her relatable and hilarious "swollen feet" pregnancy saga
In case you've been on that Jessica Simpson swollen-pregnancy-feet beat, the mogul mama finally got her ankles back. Poor J. Simpson shared a photo of her very swollen feet back in January while she was pregnant with her third child, deliciously adorable baby girl Birdie Mae, and asked her followers if they had any advice for combating this frustrating, uncomfortable, and all-too-common pregnancy woe.
After that initial post, Simpson doubled down on "swollen foot" content and jokingly threw up a pre-pregnancy photo of her slim legs next to a photo of her pregnancy feet alongside the hashtag #TenYearChallenge, and LOL.
https://www.instagram.com/p/BswZbsfjU-7/
Now fans were invested in her pregnancy feet journey and the delightful way she documents it. A week later she got a cupping procedure on her foot — which is a type of alternative medicine that helps with inflammation, pain, and blood flow — and shared that experience on Instagram as well.
https://www.instagram.com/p/BszLvX8DFwS/
The cupping worked! Later that day Simpson shared a photo of her "Skankles aka Skinny Ankles."
Simpson didn't dole out any other foot-related gestational updates for a while and then on March 20, 2019, she announced the birth of her daughter, Birdie Mae Johnson.
We were so delighted by the new baby content that we completely forgot about her pregnancy updates and her journey to heal her feet. Cut to 12 weeks later and Simpson is pleased to announce that her feet snapped back.
"I spy…my ankles!!!" she captioned a silly photo of her bare post-pregnancy legs on June 18, thus concluding the saga of Jessica Simpson's swollen feet.
In all seriousness, water retention can sometimes be a sign of preeclampsia, a pregnancy condition that can be dangerous if left untreated. If you're experiencing concerning amounts of swelling, definitely consult your doctor instead of Instagram.
As for Simpson, she gave birth to a healthy baby and seemed to get through her pregnancy without any life-threatening complications, but we're happy to see her write the final chapter in her relatable, thankfully harmless, and hilarious ankle saga.