Celebs Read Hilarious Texts From Their Moms In Honor Of Mother's Day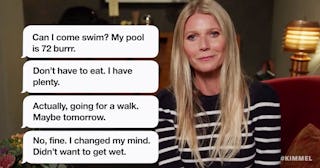 Jimmy Kimmel Live
Celebs like Gwyneth Paltrow, Emily Blunt, and Will Arnett read some very mom-like texts from their own moms
It's almost Mother's Day — a time to celebrate all that makes our moms unique. One way they aren't unique, however, is the amount of bizarre things they text us. Leave it to Jimmy Kimmel to find celebrities willing to share some of the texts they get from their moms to remind us we are not alone.
The latest installment in Jimmy Kimmel's Mom Text segment gives us celebs like Gwyneth Paltrow, Will Arnett, Lakeith Stanfield, Elle Fanning, January Jones, Ben Schwartz, Don Lemon, Renee Zellweger, Emily Blunt, and Aidy Bryant sharing text messages they've received from their moms. It's a gentle reminder for all of us how amazing moms can be and how very, very detailed their texts (which should have been phone calls) can get. I'm looking at your mom, Elle Fanning.
"Most moms, as we know, love to text, almost as much as they love to leave long voicemails," Kimmel said. "So, over the past few months, before the virus drove us underground, we've been asking our celebrity guests to read real text messages from the women who brought them into this world, and the result is this: Mom Texts."
The video starts with Gwyneth Paltrow reading a text from her mom, Blythe Danner. She reads it so perfectly like her mom you'd swear Danner was reading it herself. "My mother and I are neighbors in long island, so sometimes I will get a text like this, 'Can I come swim? My pool is 72 burrr. Don't have to eat. I have plenty. Actually, going for a walk. Maybe tomorrow. No, fine. I changed my mind. Didn't want to get wet.'" Thank you for that level of detail.
"So, I texted my mom recently," Arnett said next. "What's up with you guys? And she replied, 'We are watching 'The Crown' what's up with you??,'" adding, "'We can utilize the pause button.' Oh, I forgot that you could utilize the pause button." This is similar to my mom's texts telling me to "tape something" for her.
Lakeith Stanfield's mom texted him about some shady burritos and I truly believe "floor burritos" will become a thing now. "'My home girl selling burritos let me know if you want one,'" the Get Out star's mom shared, along with a picture of someone making burritos. "Lmao wtf," he responded. "'Hell nah! She makin them bitches on the fLO!!!!!?'"
Elle Fanning, on the other hand, received a novel of a text that is every mom worrying about her kids in the middle of the night who just vomits into her phone. "'Just a reminder, don't ever ever dive into a swimming pool period or into an ocean or lake ever ever,'" Fanning's mom began. "'No matter what!!! You cannot rely on someone saying it's safe or thinking that it's deep enough. Oceans have sand bars that look deep, but really are up to your ankle. Just go in steps or scoot in on your bottom gently,'" she cautions.
After a few more hilarious texts, Emily Blunt starts reading her mom's, who apparently calls her "boop." "'Dearest boop. Interesting day here. Was wielding a handheld small vacuum on the stairs yesterday," she began. "Missed my footing, fell backwards, vacuum whirled up and crashed onto my arm and then onto the whole floor,'" her mom wrote. "'I executed some sort of swivel halfway down the stairs and nearly followed it nose first but managed to clutch the bannisters. Thought my arm was broken but just badly bruised.'"
Of course, Aidy Bryant's mom is every mom trying to defend their child's honor. Bryant explained that one of her skits got bumped for another on the show recently, and when her mom found out, she texted her, "That last sketch ate shit." Bless.
Happy Mother's Day weekend to all the fast-fingered moms out there. We love you for it.