JLo And ARod Share New Engagement Pics And They're STUNNING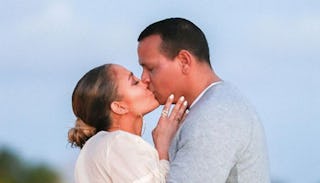 Image via Instagram/Jennifer Lopez
Hold onto your heart, Jennifer Lopez and Alex Rodriguez just shared more beach engagement pictures
We all knew it was coming, but the engagement between Jennifer Lopez and Alex Rodriguez is finally here, and at least the proposal part of it is just as stunning and beautiful as it could possibly have been. This morning, the pair both shared pictures of the beachy question-popping on their respective Instagram accounts, with Lopez adding a few different additional slides of the magical "I do" moment.
Just as with the enormous engagement ring picture that popped up a couple of days ago, the lovebirds coordinated their posts to drop at the same time.
JLo captioned her pic with some stars an a simple heart, while A-Rod went with a more direct approach.
"Locking it down," he wrote, adding a hashtag: #futuremrsrodriguez.
The couple got engaged on Saturday, March 9, during what looked like an enviably perfect beach vacation. And the ring looks like it's big enough to make moving your arm difficult.
The new photos show the proposal itself: both on a beach, with the ocean and evening light in the background. Rodriguez is on his knee, wearing athletic shoes, white pants, and a grey sweater. Lopez is wearing a wispy, white summer skirt and blouse, blowing in the wind.
In the next pic, J-Lo covers her mouth as she gets a first good look at the ring as it slides onto her finger.
Next, we see a cute kiss – with A-Rod still on his knee.
And finally, a proper post-engagement smooch.
Rodriguez also shared more of his feelings during an Instagram story:
"There aren't many words to share with you, only feelings. Gratitude. Excitement. And just … joy," he wrote above a black and white picture of the couple embracing. "We know there is work to do to keep building a family and future we can be proud of, and we can't do it without all of you. We are so thankful for all your messages of love and congratulations."
The couple has been dating for just over two years, and their romance has been a bit of a whirlwind – they've begun blending their families, they've bought property together, and rumors of their impending engagement have been swirling for a year.
"They are incredible together. Very much soulmates that bring out the best in each other and are so supportive of each other," a source and friend of the couple told People. "From the start, they moved very quickly. Their relationship was always very passionate. Jennifer quickly fell very hard for Alex. And she quickly started planning for the future."
The source added that J-Lo is the "happiest she has ever been."
This will be the second marriage for A-Rod, who was married from 2002 to 2008 to Cynthia Scurtis – they had two children together, who are now 15 and 11. This will be JLo's fourth marriage. She has 11-year-old twins with ex-husband Marc Anthony.
Other than getting engaged, it looks like the couple is having a blast while "out of the office," as A-Rod put it on Instagram. The couple has been golfing, boating, and hanging on the beach during their romantic vacation.
https://www.instagram.com/p/BuxK8jpAK8-/
Um, we can't even begin to imagine what their wedding is going to look like. Or how cute they're going to be about it.