Even JLo Can't Deal With Her Kids' Homeschool Math Homework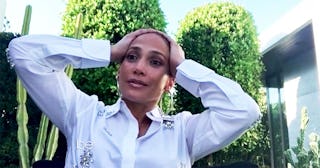 TheEllenShow/Youtube
In an interview segment with Ellen, JLo was every mom who's totally done teaching homeschool math
Teachers are amazing and we've long known that but parents are bowing down to educators more than ever thanks to the entire nation being thrust into distance learning as the country stays home to slow the spread of coronavirus. Jennifer Lopez is no different than every other mom when it comes to supervising and assisting her kids as they do their schoolwork — and like most of us, it's the math homework that's getting to her.
If your kids are too little to be in school yet, you might wonder why grown adults struggle to help their elementary school kiddos with math, and to that I say, COMMON CORE. I'm not here to debate it's merits but merely to point out that it's not how we were taught, which makes it intensely frustrating when our children need help. JLo fully feels our pain telling Ellen DeGeneres during an at-home version of DeGeneres' talk show that she's at the end of her educator rope.
Yep, twins Max and Emme have a mom who's had to up to here with new-school math. "Honestly, I think we're all like, what is this? I'm not a teacher, and also, have you seen the math that they make the kids do now? It's a new math," she laments. "Half the time I'm like, 'OK, yeah, let's look up that word. What does that mean?'" says. "It's been an experience, for sure."
SAME, sis. I have assigned my husband the duration of our kids' homeschool math tutoring because I do not do the JLo-coined "new math" either. I mean, let's be honest, I never did old math either. I'm a writer and that's by design, y'all. My kids are in fifth and seventh grade — I tapped out a few years ago when it comes to having any ability to help them and honestly, that's best for all involved.
But this is the position millions of parents around the country and the world have been put into because of coronavirus school closures. We are now getting a very firsthand lesson in exactly how valuable and brilliant teachers really are. Not that we didn't already know, but let's just say I have some ideas on end-of-year gifts to send the angels who have taught my kids all year. They involve chocolates, wine, and Target gift cards, but nothing is enough to convey my gratitude.
Teachers, we (and JLo) salute and appreciate you.
This article was originally published on