$90 For A F*cking Throw Pillow? Calm Down, Joanna Gaines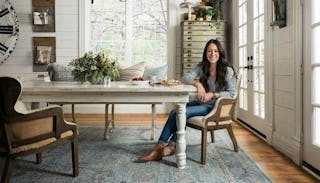 Today.com
I fell in love with Joanna Gaines a few years back when she introduced me to shiplap. How could something so simple excite me more than a pint of ice cream?
She made me want to throw some horizontal boards up all over the damn place. I really needed a farmhouse sink and stainless steel countertops too. Everything she touches turns to gold, she has an eye for design, and all of her creations make me swoon. She and her husband, Chip, know how to turn old buildings and ramshackle houses into legitimate dream homes for families while staying in their (usually modest) price range.
One of my favorite activities is to binge-watch Fixer Upper. The before and afters leave me standing in the middle of my dining room with a sledge hammer in one hand, and a paint brush in the other, as I fantasize about taking down a wall in my living room and putting up a rustic beam instead (after shiplap of course). "I really need to open this room up. Give it some character and charm. Like, right now" are the types of thoughts that swirl in my head.
So, when I heard Jojo was going to have her own line of home accessories, I was pumped. I mean, the show is called Fixer Upper, she is a master at taking a dilapidated house and fixing it up on a budget by upcycling and using salvaged pieces. She makes dreams come true on the cheap.
Plus, she has four kids and a bunch of animals. This woman knows what kids are capable of. She knows they leave destruction in their wake. She knows they are constantly sticky and dirty. She knows that the animals are almost as bad as the kids.
Surely, her Magnolia Home pillows, rugs, and accessories will be affordable, right? I mean, she gets it. She knows first-hand your home accessories come and go, so it is silly to spend an shit ton of money on the little things.
I had visions of peppering my whole house with her accents so guests could "ooh and aah," as they made their way through my home. Would my home finally be HGTV-worthy? You bet your shiplap it would be.
But hold the phone, my dreams have been shattered.
Joanna, $90 for a fucking throw pillow? Are you kidding me? Please tell me you're kidding.
I'm not paying $90 for 22 inches of anything. Mother to mother, you and I both know what happens to throw pillows. They get smeared with boogers, pizza sauce, and juice. They make the perfect hiding spot for gum wrappers and lollipop sticks. They are a magnet for pet hair.
Most of the time they are being dragged across the floor as our sweet babies use them to sled down the stairs. Bashing each other over the head and building epic forts with them are also popular pastimes. And we all know, at some point, they are going to be between two bare butt cheeks, because kids.
Where is the Fixer Upper price point? You got famous for fixing homes up on a budget, Jo. How about fixing me up with a pillow that doesn't cost me a week's worth of groceries?
And let's discuss the throw blanket situation: Are they lined with tears of a golden unicorn? Because if they are not, I'm gonna be throwing around a big fat "fuuuccck" as soon as my dog decides it is his new napping place, or my son uses it as a drop cloth to fix the squeaky wheel on his bike because I've asked him to throw something down on the floor before he even touches the grease. He's going to want his knees on that plush baby instead of the old towel I asked him (45 times) to use.
A rug for $2,300? AYFKM? We are getting punked here. Can it babysit, serve drinks, and self-clean? If not, I think I should save my pennies for something else, like sending my kids to college perhaps. This is some major coin we are talking about here. Everyone knows when you have animals and kids rugs are disposable. Go cheap or go bare is the rule in my house.
Don't get me wrong, Jo, your line is gorgeous. I would expect nothing less. Those throws would look amazeballs on my couch, but let's be honest, there isn't a kid out there who wouldn't have it fucked up faster than Chip can make a corny joke.
I'm pissed at you, Joanna — I must admit. Get back to us when you have something that falls in line with the theme of Fixer Upper without the "upper" price point.
Until then, I'll be over here using my $5.99 T.J. Maxx pillows (that smell faintly of apple juice) while swaddled in my clearance Target throw, as I watch my kids roll themselves up in the dining room rug like a taco, without clenching my butt cheeks, thankyouverymuch.
This article was originally published on