The Trailer For Joanna Gaines' New Cooking Show Is Here And Say No More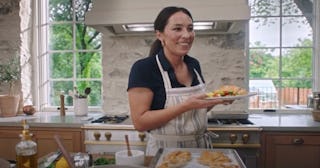 Joanna Gaines Instagram
Magnolia Table will premiere on Discovery+ on January 4, 2020
Fixer Upper fans, rejoice! Joanna Gaines has a new cooking show dropping in January and a couple of her kids even make cameos in the recently released trailer for Magnolia Table.
RELATED: How To Teach Kids To Cook: Simple Suggestions To Create An A+ Home Chef
Before Chip and Joanna Gaines' new television network — Magnolia Network — officially launches in 2021, Gaines is premiering her new show Magnolia Table on Discovery+ on January 4. "After lots of bloopers and LOTS of butter, we finally have ourselves a cooking show folks!" Gaines wrote in the caption of her social media post where she premiered the trailer for her new show. "I think if your kitchen is not messy, you're not having fun."
The best-selling cookbook author, TV star, and mother-of-five looks as adorable as ever in the trailer. The preview is filled with delicious-looking food, from colorful veggie salads to cobblers to mouthwatering biscuits. "If you're looking to learn how to cut things, this is not the show for you," Gaines says in the trailer with a laugh.
Also in the show? The Gaines kids. Ella Rose, her eldest daughter, is seen helping mom out in the kitchen, plus little Crew makes an appearance as well. In the video, he's there picking herbs outside with his mom and perched on the counter watching her intently. "You want to help mama cook today?" Gaines asks her youngest.
"The fact that I get to cook in this kitchen feels like a dream come true," she said in December when she and husband Chip released a sneak peek of their forthcoming Magnolia Network. The new channel will feature a number of new shows including Fixer Upper: Welcome Home, a reboot of Chip and Joanna's hit HGTV series Fixer Upper.
As for the new cooking show, Gaines will share one of her grandfather's special recipes and will dedicate an entire episode to biscuits which we love her forever for. The two-time cookbook author first announced plans for the cooking show during a November 8, 2020 appearance on The Tonight Show.
"You're talking to the executives of the Magnolia Network, and when Jimmy Fallon says Jo should do a cooking show, I vote that Jo does a cooking show," Chip joked before admitting they were well into production. "It's a lot of work, but we're knee-deep in it right now, and I think what we love is just the idea of just finding amazing stories, people who are passionate about what they do, whether it's cooking, design, business. We're excited. This is a lot of fun and a lot of work."
It will be fun to see Gaines in a new element surrounded by family and good food.
This article was originally published on