Joanna Gaines Shares Adorable Pics Of Her Bump On Instagram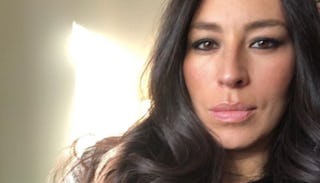 Image via Instagram/Joanna Gaines
Of course the 'Fixer Upper' star looks absolutely gorgeous pregnant
While Chip Gaines may have initially shared the news that he and wife Joanna Gaines were expecting baby number five with a hilarious "double bump" pic, Joanna herself hasn't shared any photos of her bump.
Until now — and as always, she's absolutely adorable.
Whether you're an avid Fixer Upper fan or you have no idea what "shiplap" is, you can't deny there's just something so endearing about Joanna Gaines. Especially pregnant Joanna Gaines.
"Photoshoot today and there's no hiding this baby bump anymore," she captioned her photo. Can we just talk about her endlessly perfect, flowing locks for a second? Because #HairGoals. OK, back to baby business.
While there's nothing bump-related to see in the above photo, there were a couple of sweet shots in her accompanying Instagram story.
Cutest. Ever. Even if her "non-hideable" bump looks like my own stomach at zero months pregnant. Prior to getting pregnant, Joanna and Chip hinted around that they'd like to have a fifth child — and would even occasionally chant "number five" during Fixer Upper outtakes.
Love the "#I'mHungry" caption — no doubt a familiar feeling now that she's in the middle of her fifth pregnancy! Chip and Joanna's newest bundle of joy will join older siblings Ella Rose, Duke, Drake, and Emmie Kay.
Gaines' most recent Instagram post proves it doesn't matter how many kids you have, pregnancy cravings are no joke.
https://www.instagram.com/p/Be9Wpv6nIda/
Last fall, they announced plans to end their hit show, Fixer Upper. "This is just us recognizing that we need to catch our breath for a moment," they wrote on Joanna's blog. "Our plan is to take this time to shore up and strengthen the spots that are weak, rest the places that are tired and give lots of love and attention to both our family and our business."
While we're still not over the fact that Fixer Upper is currently airing it's final season, here's hoping the Gaines family remains as candid as they are now while their family grows.