Joanne Rogers, Wife Of Beloved Mister Rogers, Has Died At 92
by Cassandra Stone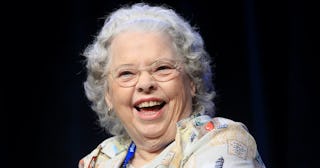 Frederick M. Brown/Getty
Joanne Rogers kept her husband's legacy going strong in the 17 years since his death
Joanne Rogers, the widow of Fred Rogers, has died at the age of 92. And while it would be hard to find a single soul who didn't know and love her husband, it's Joanne who has kept his legacy going strong since his death from stomach cancer in 2003.
The Mrs. to everyone's beloved Mister died Thursday after a lengthy hospital stay, according to WTAE. The actor David Newell, better known as the mailman, Mr. McFeely, on Mister Rogers' Neighborhood, confirmed the news of her death.
Fred Rogers Productions, the Pittsburgh-based non-profit organization specializing in children's public programming and the production company behind Daniel Tiger's Neighborhood, released a statement about Joanne.
"Joanne was a brilliant and accomplished musician, a wonderful advocate for the arts, and a dear friend to everyone in our organization. We extend our heartfelt condolences to Joanne's family and the thousands of people who had the privilege of knowing and loving her."
Both Mr. and Mrs. Rogers are local treasures in the Pittsburgh area, where they lived, worked, and inspired their neighbors throughout their entire lives. Many people weighed in on Joanne's passing, locally and nationally.
Joanne has been honored many times in recent years, including an award in 2019 that credited her with preserving Fred Rogers' legacy in Pittsburgh and helping young people learn about film and media, and the Loving Kindness Award from the Jewish Community Center of Greater Pittsburgh.
According to The Washington Post, she worked on her husband's first show, The Children's Corner, and also shared his deep love of music. She herself was a concert pianist who encouraged her husband to bring "a little more of the light side" of him through music on his television programs.
And, like all of us, she's a big Tom Hanks fan. When he was in town filming A Beautiful Day in the Neighborhood, where he portrayed her husband in the Oscar-nominated role, Hanks and Joanne developed a friendship.
"I did have the chance to tell him that Fred loved his work," she told WTAE at the time. "It's almost providential that he's doing this. Fred loved Forrest Gump."
After her husband's death, she worked to continue his legacy through nonprofit organizations including Fred Rogers Productions, the Fred Rogers Center for Early Learning, and Children's Media at Saint Vincent College in Latrobe, Pa.
As a native Pittsburgher myself, I can tell you that the news of Joanne's death truly hits home, as cliche as that may sound. If you've ever visited our fair city, then you know firsthand that we hold them in the highest regard. From statues that have been erected to museum dedications that bear their name, Mister Rogers Neighborhood is our neighborhood. In every way. And Joanne kept that going for the last 17 years after we said one of the most painful goodbyes Pittsburgh has ever experienced.
The message of kindness, of showing up for one another, of helping our community — a message that is deeply needed at this particular time in history — it was their message. And the world will never forget it.
This article was originally published on