Joaquin Phoenix Says He Won't 'Force' His Son To Be Vegan
by Christina Marfice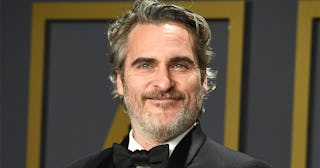 Steve Granitz/Getty
Joaquin Phoenix gave a rare interview about his son and opened up about raising a family with his strong political and moral beliefs
Joaquin Phoenix already has an incredibly decorated career under his belt. But we're betting nothing in his life could beat the moment last year when he and his partner, Rooney Mara, welcomed their son, River.
Since becoming a father, Phoenix has stayed pretty quiet about this new part of his life in his public appearances and interviews — in fact, the actor is known for giving interviews very rarely and generally choosing not to talk about his family and personal life. But recently, he sat down for an interview with the Sunday Times, where he opened up about what it's like to raise his son as a dedicated vegan.
"Well, certainly I would hope that [he is vegan], but I'm not going to impose my belief on my child," Phoenix said. "I don't think that's right."
Phoenix added that while he intends to let River take the lead on deciding what kind of lifestyle he wants to live, "I'm not going to indoctrinate him with the idea that McDonald's have a Happy Meal because there's nothing fucking happy about that meal."
"I'm not going to tell him that it's OK to read books about all the wonderful little farm animals, and they say 'Oink oink oink' and 'Moo moo moo,' and not tell him that that's what a hamburger is," Phoenix continued. "So I'm not going to perpetuate the lie, but I'm also not going to force him to be vegan. I'll support him. That's my plan."
Phoenix has long been outspoken about his passion for environmental issues and animal rights. In fact, when he won the Best Actor Academy Award for his role in Joker, he used his acceptance speech to speak out about his beliefs, comparing his fight for animal rights to fights against racial and gender inequality.
"I think the greatest gift [acting] has given me, and given anyone in this room, is the opportunity to use our voice for the voiceless," he said at the time. "I've been thinking a lot about some of the distressing issues that we are facing collectively, and I think at times we feel, or are made to feel, that we champion different causes. But for me, I see commonality. I think whether we're talking about gender and equality, or racism, or queer rights, or indigenous rights, or animal rights, we're talking about the fight against injustice."