Biden's COVID Relief Plan Aims To Open Schools In 100 Days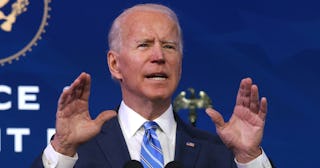 Alex Wong/Getty Images
The goal is to vaccinate 100 million Americans and reopen schools in the first 100 days of his administration
As the COVID-19 pandemic continues to worsen, with cases and deaths skyrocketing following the holidays, President-elect Joe Biden announced a $1.9 trillion relief package on Thursday, and it includes not only a new round of stimulus checks for Americans, but also a vaccine distribution plan and a goal to reopen schools in the first 100 days of his administration.
Called the "American Rescue Plan," Biden's relief package would dedicate $416 billion to help launch a national vaccination program, which aims to vaccinate 100 million Americans and reopen schools in the first 100 days of his administration.
"We will move heaven and earth to get more people vaccinated," Biden said in a speech on Thursday evening.
In addition to dedicating another $350 billion to help state, local and tribal governments and $440 billion for aid to communities and businesses, the plan also includes $1,400 direct payments to individuals, as well as "more generous unemployment benefits, federally mandated paid leave for workers and large subsidies for child care costs," the New York Times reports. In total, the proposal dedicates more than $1 trillion in direct relief to families via both stimulus payments and increased unemployment insurance benefits.
"During this pandemic, millions of Americans, through no fault of their own, have lost the dignity and respect that comes with a job and a paycheck," Biden said.
"Just as we are in the midst of a dark winter of this pandemic as cases, hospitalizations and deaths spike at record levels, there is real pain overwhelming the real economy," he continued. "The one where people rely on their paycheck — not their investments — to pay their bills, their meals and their children's needs."
As for schools, the proposal includes $130 billion in K-12 funding, aimed at paying expenses associated with mitigating the spread of the COVID-19 virus inside schools, including improving ventilation systems.
According to his address, the "American Rescue Plan" will take on the nation's more immediate economic and health-care needs, and then in February, he will unveil a broader relief plan in his first appearance before a joint meeting of Congress in February. He claims his plan will create more than 18 million jobs, per TODAY.
"Unity is not a pie-in-the-sky dream. It is a practical step to getting things done," Biden said.
While Congress has yet to approve the plan, House Speaker Nancy Pelosi and incoming Senate Majority Leader Chuck Schumer approved of the package in a joint statement Thursday ahead of Biden's remarks.
"These proposals by the Biden-Harris administration will be critical to getting our country through this challenging period and towards a period of recovery. We echo the president-elect's call for bipartisan action on his proposal and hope that our Republican colleagues will work with us to quickly enact it," they said.
The proposal follows the deaths of more than 4,400 Americans on Tuesday due to COVID-19 — a new daily record. And according to The Washington Post, nearly 1 million people filing for unemployment last week, marking a new high in jobless claims since August.
Information about COVID-19 is rapidly changing, and Scary Mommy is committed to providing the most recent data in our coverage. With news being updated so frequently, some of the information in this story may have changed after publication. For this reason, we are encouraging readers to use online resources from local public health departments, the Centers for Disease Control, and the World Health Organization to remain as informed as possible.