Biden Tells GOP Congress Members To 'Grow Up' & Wear The Damn Mask
by Madison Vanderberg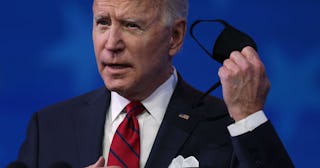 Alex Wong/Getty Images
Joe Biden slams GOP Congress members who refused to wear masks during Capitol lockdowns
Five members of Congress have now tested positive after a number of Republican Congress members refused to wear masks while on lockdown during the attack on the Capitol building earlier this month. In a Friday, January 15, 2020 announcement about his plans to tackle the COVID-19 crisis, President-elect Joe Biden had no patience for the numerous Republicans Congress members who refused to put a mask on during the Capitol riot as they were huddled indoors, in close contact with the rest of Congress.
"Quite frankly, it was shocking to see members of the Congress, when the Capitol was under siege by a deadly mob of thugs, refusing to wear a mask while they were in secure locations," Biden said.
A now-viral video shows Democratic Representative Lisa Blunt Rochester handing out masks to her GOP colleagues as they refuse to wear one, despite being huddled together in windowless rooms for several hours during the riots at the Capitol on January 6, 2020.
In the video, real-life QAnon fanatic Representative Marjorie Taylor Greene even snickers at Rochester as she hands out masks.
Biden thanked Rochester for attempting to get Republicans to care about COVID-19, but called out the GOP morons who refused to put a mask on.
Putting on his "I don't have time for this shit" hat (which he should employ way more often, we love to see it), Biden said, "Republican colleagues refusing to put them on? What the hell is the matter with them? It's time to grow up,"
"At least four members of Congress today including a cancer survivor now have COVID-19 who were in those rooms," Biden added. "For God's sake, wear a mask if not for yourself, for your loved ones. For your country. These are real matters of life and death."
Biden also said that the politicization of mask-wearing in this country is just plain "stupid," and cheers to someone in office finally saying that.
"This is not a political issue, it's about saving lives. I know it's become a partisan issue, but what a stupid, stupid thing to have happen," said Biden, who is actually mandating 100 days of mask-wearing once he's sworn-in next week.
Also, Biden said four members of Congress now have COVID-19 since the lockdown at the Capitol, but the latest count is actually five if you count the one member who tested positive on the actual day of the riots.
Representative Bonnie Watson Coleman most recently tested positive for the virus. She is 75 and a survivor of cancer.
Rep. Pramila Jayapal, Rep. Brad Schneider, and Rep. Adriano Espaillat have all tested positive since the Capitol attack, and Jayapal and Schneider definitely noted that they were in spaces with other members of Congress who refused to wear masks that day.
Rep. Jake LaTurner did test positive the same day as the riots, but was reportedly not in the same room as his colleagues that day.
I can't believe I even have to say this, because once upon a time I thought that all presidents had to have common sense, but thank goodness we finally have an incoming president who, at the bare minimum, believes in wearing masks.
This article was originally published on