Sophie Turner And Joe Jonas Are Reportedly Expecting Their First Child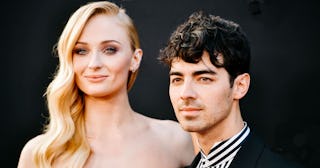 Matt Winkelmeyer/Getty
If you stan everything about Joe Jonas and Sophie Turner, brace yourself — it looks like they made a baby
Congrats are apparently in order! According to multiple reports, singer Joe Jonas and Game of Thrones star Sophie Turner are expecting their first child together. And while we all try to process how beautiful a living, breathing combination of their genes will be, we'll fill you in on the details that have surfaced so far about the first-time parents' reported pregnancy.
The exciting news broke Wednesday afternoon when Just Jared published an interview with a source allegedly close to Jonas and Turner. "The couple is keeping things very hush hush but their friends and family are super excited for them," the insider said. Accordingly, Turner has become strategic in her wardrobe choices to minimize the likelihood of anyone noticing a burgeoning baby bump. Said the source, "Sophie has decidedly been choosing outfits to wear on and off the carpet to accommodate her changing body."
So, two interesting points to make here. First, reps for both Jonas and Turner declined to comment on the stars' personal lives (and Jonas and Turner are remaining mum, too). Second, the last photos captured of Turner out and about do show the actress bundled up in a big coat. Could there have been a baby Turner-Jonas beneath that black leather ensemble of hers? It remains to be seen.
However, the actress did get a little sentimental on her Instagram feed last week. Posting a black-and-white photo of her kneeling beside Jonas and him kissing her head, she wrote, "Happiness begins with you, bub" (referencing one of her hub's recent songs). Sure, this may be us trying to speak a Turner-Jonas offspring into existence, but pregnancy hormones will turn you into a sappy mush monster in no time flat.
The sweet duo surprised fans when — no big deal or whatever — they left the Billboard Music Awards in May and promptly got hitched at a Las Vegas chapel. 'Twas the stuff millennial wedding boards are made of: the bright neon lights of Sin City, ring pops, an Elvis impersonator, and Diplo live-streaming the highlights.
As if that wasn't enough to make us all swoon, they followed it up two months later with a lavish wedding celebration in southern France. The couple kicked things off with a pre-wedding party at the Hotel Crillon le Brave, followed by a rehearsal at Hotel de la Mirande in Avignon, and lots of general merriment at the Château de Tourreau.
So, as we wait for Jonas and Turner to confirm the happy news about their genetically blessed bundle of joy, we'll be over here thinking about how lucky the kid is to have such cool parents.