John Cusack Shares Footage Of Police Attacking His Bike With Batons
by Julie Scagell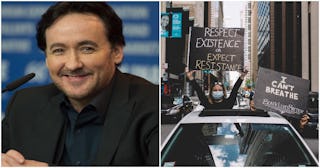 Matthias Nareyek/Nurphoto/Getty
The actor John Cusack shared multiple photos and videos while protesting in Chicago
Actor John Cusack protested the killing of George Floyd in Chicago on Saturday, May 30, 2020, and shared a disturbing video on social media when police came at him with batons in an attempt to get him to leave the area.
The actor shared multiple pictures and videos on Twitter while out protesting over the death of George Floyd and in Chicago — as in most major cities in America — there were protests, riots, and both state police and the National Guard called in to restore order. Unfortunately for Cusack and others, videos that surfaced online show that the police seem to be making matters worse.
Cusack said police officers came at him with batons while on his bike, writing: "Cops didn't like me filming the burning car so they came at me with batons. Hitting my bike." In the video, you can hear the officer yelling, "Get the fuck out of here!" along with something striking Cusack's bike multiple times.
He tweeted throughout much of the day while protesting alongside fellow Chicago residents, writing, "It's nasty as fuck out there, everyone is on edge, things burning- open looting – Magnificent Mile- and all over." In another, he shared that protestors and reporters were being doused with pepper spray. "Pepper spray – is out – no tear gas that I've seen personally out here."
He also shared another video of the supposed "peace officers," — the same ones who came at him with batons.
Chicago isn't the only city where police are escalating violence during the protests. In Minneapolis, where Floyd was killed, police can be seen firing rubber bullets at reporters.
Another video showed a Minneapolis Star Tribune reporter bleeding after he said police shot at his window.
In another disturbing video, National Guard members can be seen jogging down a residential street in Minneapolis, shooting paint cans at houses.
In Louisville, police can be seen taking water and other materials left for protestors.
In New York, police can be seen firing pepper spray at a protestor who was standing with his hands up.
In a final tweet, Cusack set his sights on the (lack of) leadership being given during this time. "Would be very surprised if this is a one or two day event / this may well be the beginning of end of [President Donald] Trump loathsome era – thank god – feels like many streams of outrage coming to a head- a wave peaking."
I hope people try to stay safe – it's truly terrible out there – but that's what I saw today," Cusack concluded his Twitter thread.