John Krasinski And Steve Carell Debut 'Some Good News' Show
by Valerie Williams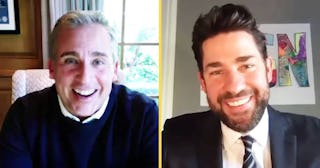 SomeGoodNews/Youtube
Former "The Office" co-stars John Krasinski and Steve Carell are giving us "Some Good News" right when we need it most
Everyone's social media feeds are all coronavirus all the time — because of course they are. This pandemic situation is unprecedented, something our society hasn't seen in at least 100 years, and the fact that it's all over the news is to be expected. But that doesn't mean we've stopped wanting to hear about the good in the world — quite the opposite actually.
Turns out, former The Office costars John Krasinski and Steve Carell heard our inner pleas for something positive to cross our Facebook feeds, and they've started up Some Good News, which is exactly what it sounds like — reminders that even though it feels like the sky is falling, there is still so much to feel positive about.
Citing the "incredibly trying time" we're currently living through, Krasinski explains that his home-made show was meant to highlight the good at a time where we can truly use that sort of "news."
Pointing out how the "human spirit broke through" as the world begins to find its way through a global pandemic, Krasinski played clips of heroic healthcare workers and the citizens showing their appreciation for them with daily cheering sessions at shift-change. He recognized a neighbor caring for another neighbor's lawn while the other man is deployed, the people putting out hand sanitizer and toilet paper for hard-working delivery drivers, and a Maine man purchasing 100 lobsters to help keep a lobsterman in business. There is really almost too much good news to cover, and that's amazing to hear right now.
Then, Krasinski rolled out the moment we're all waiting for — his "co-host" Steve Carell, who adorably appeared alongside his wife Nancy, who both men credit with helping Steve work out how to video call. Carell says he likes the homemade sign behind his former costar and Krasinski is quick to note his daughters made it. The pair then begin their bantering, where it becomes immediately clear that despite not being costars any longer, they're still extremely good friends. They talk about The Office turning 15 years old this week, automatically making fans wish it were 2005 — a time with new Office episodes and no terrifying global pandemic. Sigh.'
The pair discussed a possible reunion show (OMG YES PLEASE) and then, Krasinski got a little more serious. "Hopefully one day we just get to reunite as people, and all just get to say hi," he told Carell. "I miss you a ton, man. … Boy, are you good news."
Anyone else furiously wiping fast-flowing tears from their cheeks? Just me? Cool.
The world might feel very scary right now, and parts of it certainly are. But there's still so much good — and so many good people. We're thankful to have two such people coming together to remind us of exactly that.