An Emotional John Legend Dedicates 'Never Break' Billboard Performance To Chrissy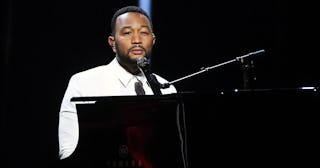 Kevin Winter/BBMA2020/Getty
John Legend dedicated the emotional song to Chrissy in his first public appearance since the loss of their third baby
John Legend delivered an emotional performance at last night's Billboard Music Awards, his first public appearance and performance since he and Chrissy Teigen announced the loss of their third child over two weeks ago. He dedicated his song, "Never Break," from his latest album to his wife.
On September 30, Chrissy shared several heartbreaking photographs documenting the loss of her third pregnancy. After a few weeks of bleeding and bedrest, Chrissy and John's second son, a boy they had already named Jack, did not ultimately survive. The couple is typically very active and responsive on Twitter and Instagram, and they have remained silent since the loss.
"This is for Chrissy," he said as he began his performance last night.
The lyrics of "Never Break," which was written last year, describe a relationship that is unbreakable and built on a strong foundation to take on life's challenges.
"I'm not worried about us
And I've never been We know how the story ends
We will never break
We will never break Built on a foundation Strong enough to stay We will never break As the water rises And the mountains shake Our love will remain."
The couple announced they were expecting their third baby over the summer as part of his music video for his single, "Wild." Not long after, Chrissy was candid on social media about dealing with a weak placenta and abnormal bleeding in social media updates while she was on bed rest and eventually hospitalized. On Sept. 30, she shared with fans the deeply sad news of their family's loss.
"We are shocked and in the kind of deep pain you only hear about, the kind of pain we've never felt before," Chrissy wrote. "We were never able to stop the bleeding and give our baby the fluids he needed, despite bags and bags of blood transfusions. It just wasn't enough."
Amid the outpouring of love and support after the news broke, many women and families opened up about their own miscarriages. It can be such an isolating experience on top of being heart-shatteringly painful. There is an undeniable taboo surrounding pregnancy loss, and the fact that Chrissy and John shared their experience with the world is generous, brave, and something many, many grieving families appreciated.
"On this darkest of days, we will grieve, we will cry our eyes out," Chrissy wrote in her post about their loss. "But we will hug and love each other harder and get through it."