John Legend Breaks Down Crying Presenting Chrissy With Her Glamour Woman Of The Year Award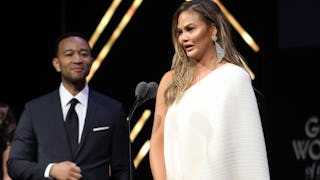 Image via Cindy Ord/Getty Images
John cries about Chrissy, she cries about him, and now we're crying too
We hope you're wearing your waterproof mascara, because John Legend introduced wife Chrissy Teigen at Glamour's 2018 Women of the Year Awards, and he got all choked up while talking about how amazing she is.
And then she cried talking about how amazing her husband is, proving that this couple is the ultimate in #RelationshipGoals.
Teigen was one of the honorees at the event, along with Janelle Monáe, Betty Reid Soskin, Manal al-Sharif, and Viola Davis, and Legend was the perfect person to introduce her to the crowd before her speech.
"We were at this big event, and she was crying in a dressing room because she felt so overwhelmed by the illustrious company she was in," Legend said, tearing up. "We were celebrating the TIME 100, and she felt like she didn't belong. How could she be worthy of the likes of Oprah, Christine Lagarde, Michelle Obama?"
"Well, I'm here to say that you belong here," the EGOT winner gushed. "I think it has become very clear to Glamour magazine and to many millions of people around the world that you are more than worthy of this honor tonight. I am amazed by the woman that you've become. And I'm truly glad that the rest of the world has finally found out about it too."
Earlier in his speech, Legend talked about how Teigen has influenced so many people simply through sharing her experiences:
"If you speak up about the things that you believe in, whether it's immigration rights, postpartum depression, or the joys of chicken pot pie—and if you do it authentically and without presumption, you can enlighten another human being, you can brighten people's day. What a gift that is. And what a time to do it, right now, when it's so important to amplify voices of reason, not shut them down."
Teigen then accepted the award from her "trophy husband," and also recalled the night that he alluded to in his speech.
"I sat around this incredible table of people who were so amazing and inspiring…. They were all asking each other what they did. When it got to me, they asked what I did, and I said I didn't know. I didn't know what I was going to do or what I could be. I didn't have a team behind me that I knew could inspire me to be those things. Now, I have that team."
"I never thought I'd be the kind of person who would win anything," she said. "I was used to being on his [Legend's] arm. I was excited to support him and be there, but this is an honor."
She couldn't help but gush back about her husband even though the night was about her accomplishments.
"I joke about it a lot, but I truly have the most incredible husband on the planet," Teigen said. "You are our everything. You completely made me a woman. We've grown together. Our family's grown together. Our careers have grown together. This is so sappy. I'm sorry. I hate it," she added. "I didn't cry during our wedding. I hate you, John, I really do."
The couple met on the set of one of Legend's music videos in 2007, and married in 2013. They have two children together, two-year-old Luna and baby Miles, born this year. While Legend is known for his singing, songwriting, and acting, Teigen is a model, television personality, and author, but is probably best known for her outspoken and relatable social media presence — she has 21 million followers on Instagram alone.
She often speaks out about issues like motherhood, breast feeding, and feminism — and almost always with a sense of humor.
You can finish wiping your tears over Teigen and Legend's sweet relationship and then read her full 2018 Woman of the Year profile at Glamour.
This article was originally published on