Photographer Shares Heartbreaking Story Behind Photo Of Crying Toddler At US Border
by Julie Scagell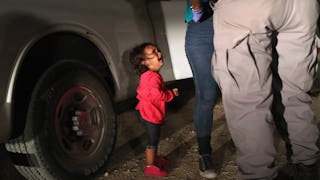 Image via Getty Images/John Moore
Moore's photo captures toddler being taken into custody at the US border
We are, as a nation, at a time when we can't turn on the evening news or look online and not see excruciating images of mothers and fathers being separated from their children at our borders. One story is as heartbreaking as the next and it's unfathomable what these families are going through. One photo has seemed to capture everyone's attention for it's striking depiction of these events, and the photographer who captured the shot said it was as horrific in person as it looks.
Pulitzer Prize-winning Getty Images photographer John Moore shared the story of the now viral image of a two-year-old asylum seeker before she and her family were taken into custody near the US-Mexico border. The mom spoke briefly with Moore and told him she was a Honduran refugee seeking asylum in the US after they'd been traveling for "a full month and were exhausted," Huffington Post reported.
The number of Honduran migrants being captured by US Border Patrol has been on the rise in recent months as Honduras, a country stricken by poverty, struggles with gang violence and political instability.
The two-year-old little girl dressed in a bright pink shirt and matching shoes can be seen crying and looking up at her mother who, according to Moore, was being searched by a U.S. Customs and Border Patrol agent. It's one of so many disturbing images of similar scenarios happening every single day in this country, and it has no end in sight after this administration announced a "zero tolerance" policy for undocumented immigrants last week.
In fact, a spokesperson from the Department of Homeland Security said in a six-week period beginning April 19 that they'd already separated almost 2,000 children from their parents or caretakers, NBC News reported. "That's approximately 46 children per day, over a six-week period," they said.
"As a photojournalist, it's my role to keep going, even when it's hard," Moore said. "But as a father ― and I have a toddler myself ― it was very difficult to see what was happening in front of my lens and thinking what it would be like for my kids to be separated from me."
Moments after the photo was taken, the mother and little girl were driven away in a van with other undocumented migrant to a processing center, Moore said. When asked by CNN if he knew what happened to the child Moore said, "I wish I knew."
"I could see on their faces that they had no idea what was about to happen," he said in an essay for Getty Images' FOTO.
We are better than this.