John Oliver Grills Dustin Hoffman About Sexual Harassment Allegations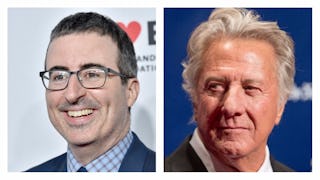 Images via Bryan Bedder/Getty Images and Roy Rochlin/Getty Images
Oliver questions Hoffman about sexual harassment claims made by a woman who was only 17 at the time of the alleged incident
During a panel discussion for the 20th anniversary of the film Wag the Dog, Last Week Tonight host John Oliver took actor Dustin Hoffman to task for statements he has made regarding recent claims of sexual harassment made against him. It was tense, it was infuriating, and it was extremely gratifying to watch.
About halfway through the discussion, which Oliver was moderating, he brought up claims made by Anna Graham Hunter in a column she wrote for The Hollywood Reporter titled, "Dustin Hoffman Sexually Harassed Me When I Was 17." The actor issued a statement following the publication of the story on November 1st, that said: "I have the utmost respect for women and feel terrible that anything I might have done could have put her in an uncomfortable situation. I am sorry. It is not reflective of who I am."
It was this statement that Oliver questioned Hoffman on, saying, "This is something we're going to have to talk about because it's hanging in the air."
Washington Post reporter Steven Zeitchik recorded part of the conversation on his cell phone. The 6 minute, 14-second video has been edited down from what Zeitchik says was an approximately half-hour long discussion.
The part of Hoffman's statement that Oliver took on first was him saying that "…it's not reflective of who I am." Said Oliver, "It's that kind of response to this stuff that pisses me off. Because it is reflective of who you were. If it happened and you've given no evidence to show that it didn't happen, then there was a period of time, for a while, when you were a creeper around women. So it feels like a copout to say, 'Well, this isn't me.' Do you understand how that feels like a dismissal?"
Hoffman admitted to Oliver that his statement was meant to deflect blame: "…There's a key word…in the quote…and that is if I did anything that was out of sorts or if I embarrassed her, I apologize."
Which is the kind of meaningless apology that puts the blame on the person you're supposed to be apologizing to. It's a way of "apologizing" while saying that you did nothing wrong and the problem here is that the other person is too sensitive.
But it's when Hoffman tries to explain away the way he and the crew talked on the set that we get a clear image of what that workplace was like: "You do things, you say things [on sets]. You come to work on Monday, 'Did you have sex on Friday?' You break it up. Everyone was saying it to each other. It's a thing. I don't know if you've ever been in that kind of situation, but it becomes a family. I said a stupid thing, but I said it in the midst of the crew, and they said their stupid things. But they were sexual in terms of the humor in it. But that's 40 years ago."
Hoffman brings up the idea that this kind of talk is acceptable at work because the cast and crew are "like a family" a few times during his conversation with Oliver. Does that mean it's okay because family members love one another unconditionally, so it doesn't matter what you say? Because I'm pretty sure if I asked my mom if she got laid over the weekend, it wouldn't go over very well.
Oliver doesn't agree with Hoffman, either, saying, "I gotta say, I don't love that response either."
"What response do you want?" asks Hoffman.
"It's not for me to say," says Oliver. "It just feels like a dismissal or re-contextualizing it is not really addressing it. It doesn't feel self-reflective in the way that it seems the incident demands."
There's a misperception out there that if you're not offended by something, then no one else should be, either. If you don't think that calling someone "Pocahontas" is a racial slur, for example, then it's not — even if Native Americans say it is. If you think asking a co-worker if he got laid recently is harmless, then it doesn't matter if the women in the room are bothered by it. In both cases, one group not only gets to disrespect another, but they also get to define what disrespect is and thereby normalize it.
At one point, Hoffman gets defensive, asking Oliver, "Do you believe this stuff you're reading?"
"I believe what she wrote, yes."
"Why?"
"Because there's no point in her lying."
Right. There's no reason for her to lie about it, but there sure is a reason for Hoffman and others to call her a liar, isn't there?
The most eye-opening part of the conversation was when Hoffman describes his version of events that day, saying that she was upset, so "I went over and I went like that [appears to pat the woman next to him]. Nothing. And she was very upset and she turned and said don't you ever do that to me again. And it was, I thought, an overreaction because of all that was going on that day."
"Nothing" doesn't get that kind of reaction. It was nothing to him, and therefore he thought she was overreacting. It's this point that Oliver ends with: "I guess the thing that you said that was interesting to me was 'the things that we do between takes.' I think it's probably 'the things that we do between takes' that's probably a cultural shift that needs to happen."
The auditorium erupted in applause.