Johnson & Johnson Wants To Start Testing Their Coronavirus Vaccine By September
by Leah Groth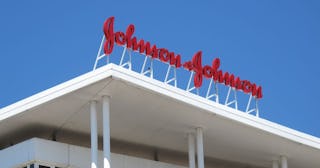 Cristina Arias/Getty
Johnson & Johnson hopes to start human trials for a coronavirus vaccine in September, with the first batches ready for use in early 2021
In the wake of the novel coronavirus pandemic, health experts, scientists, and pharmaceutical companies are scurrying to develop vaccines and treatments for the highly infectious and deadly disease. Johnson & Johnson, one of the largest pharmaceutical companies in the world, announced on Monday that they are planning to begin human clinical trials of its Covid-19 vaccine by September, with hopes of having the first batches ready for use by early 2021.
In a press release, Johnson & Johnson revealed that they have joined forces with the Biomedical Advance Research and Development Authority (BARDA), a division of the Department of Health and Human Services and have been working on a vaccine since January. Together, the companies have committed $1 billion to fund vaccine research, development and clinical testing.
"The world is facing an urgent public health crisis and we are committed to doing our part to make a COVID-19 vaccine available and affordable globally as quickly as possible," Johnson & Johnson Chairman and CEO Alex Gorsky said in a news release.
"As the world's largest healthcare company, we feel a deep responsibility to improve the health of people around the world every day. Johnson & Johnson is well positioned through our combination of scientific expertise, operational scale and financial strength to bring our resources in collaboration with others to accelerate the fight against this pandemic."
"We are very pleased to have identified a lead vaccine candidate from the constructs we have been working on since January," added Paul Stoffels, MD, Vice Chairman of the Executive Committee and Chief Scientific Officer, Johnson & Johnson. "We are moving on an accelerated timeline toward Phase 1 human clinical trials at the latest by September 2020 and, supported by the global production capability that we are scaling up in parallel to this testing, we expect a vaccine could be ready for emergency use in early 2021."
They made sure to point out that typically, the vaccine development process "involves a number of different research stages," and usually takes anywhere from 5 to 7 years, before a candidate is even considered for approval.
In addition to developing a coronavirus vaccine, Johnson & Johnson has demonstrated their commitment to the fight against the virus by pledging $50 million to support frontline health workers in the global fight against COVID-19. They have also provided over $3.7 million in personal protective equipment.
Over the weekend, Dr. Anthony Fauci made a sobering prediction about just how deadly he believes coronavirus is going to be.
"Looking at what we're seeing now, we're looking at 100,000 to 200,000 [deaths]…but I don't want to be held to that," the National Institute of Allergy and Infectious Diseases Director told CNN during a State of the Union interview. "But I just don't think that we really need to make a projection when it's such a moving target that you could so easily be wrong."
Information about COVID-19 is rapidly changing, and Scary Mommy is committed to providing the most recent data in our coverage. With news being updated so frequently, some of the information in this story may have changed after publication. For this reason, we are encouraging readers to use online resources from local public health departments, the Centers for Disease Control, and the World Health Organization to remain as informed as possible.