Johnson & Johnson's Single-Dose COVID Vaccine Could Be Approved This Week
by Christina Marfice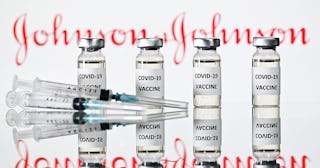 JUSTIN TALLIS/AFP/Getty
The Johnson & Johnson vaccine only requires one dose per person, which could massively speed up distribution
The COVID-19 vaccine rollout is continuing to gain steam, with the national average surpassing 1.5 million shots per day in recent weeks. As coronavirus cases decline and it starts to feel like hope is finally on the horizon, there's even more good news: A third shot is likely to receive emergency use authorization from the FDA, and it could happen as soon as this week.
Johnson & Johnson and the FDA released a detailed analysis of clinical trials of the vaccine this week, and FDA announced that the results meet its requirements for emergency use authorization. The Johnson & Johnson vaccine was found to be 66 percent effective against all symptomatic COVID cases, and 85 percent effective at preventing severe disease. Most importantly, this shot was found to be effective against all known variants of the virus that are currently circulating. It was less effective at preventing symptoms from the worrying strain in South Africa that other companies' shots have failed against, but it was effective at preventing people who contracted that strain from becoming severely sick.
Preliminary data also shows that this vaccine may help prevent asymptomatic infections. If that's true, it could be major in helping slow the spread of the virus, in addition to protecting people from getting sick and dying.
The next step is for a public hearing to be held, which is scheduled for Friday. There, the FDA's independent advisory committee will give an official recommendation either for or against approving Johnson & Johnson's vaccine. If they support authorization, the FDA could make it official as early as Friday evening. Johnson & Johnson says it could produce 20 million doses over the next few weeks, and deliver 100 million by the end of June, which is obviously significant.
What's so groundbreaking about this vaccine is that it only requires a single dose per person. All other shots that have been granted emergency use authorization in the U.S. require two doses, spaced several weeks apart. That has posed logistical problems, and hospitals and pharmacies struggle to schedule their patients for two appointments each on the right timeline. It's also meant that even though 100 million doses were quickly delivered, that was only enough for 50 million people to be fully vaccinated.
Johnson & Johnson has also submitted its vaccine to the World Health Organization and other public health oversight organizations for approval to distribute it globally.