JoJo Siwa Says Stopping Wearing Bows Was Harder Than Coming Out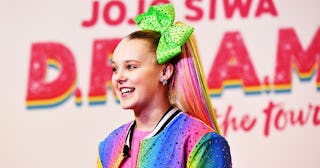 Noam Galai/Getty
For JoJo Siwa, coming out to her mom was easier than telling her she was breaking up with her iconic hairstyle
JoJo Siwa is known for a lot of things: Her neon, candy-pop-colored life, over-the-top social media videos, being a proud member of the LGBTQ+ community — and, most importantly, her iconic hair bows. When you think of JoJo, you think of the giant bows she's been wearing at the base of her high pony for literally her entire life. She's also built a big part of her empire around those bows — Forbes has reported that she's sold close to 100 million of them.
And so, on her recent 18th birthday, fans were a little surprised to see Siwa debut a brand new hairstyle that was missing a certain accessory that's become basically synonymous with her entire image.
Earlier this week, Siwa sat down with Instagram's Adam Mosseri, and one of the things she talked about was her decision to change up her iconic and extremely recognizable hair after wearing it the same way for so, so long.
"I've worn a bow, obviously, for the last 18 years of my life," she said. "I just had my 18th birthday, and it was right around my birthday that I realized, 'You know, I kinda want to do my hair different today.'"
https://www.instagram.com/p/CP8bOrXAVGf/
Siwa continued, "It just felt like the right time to do something different and to do something, you know, maybe a little bit more mature. Like a little upgrade."
Siwa also explained how hard it was to tell her mom, Jessalyn, that she wanted to give the bows a break.
"My mom actually asked me — because recently, earlier in the year, I came out to the world, and to my family, and essentially to myself too — and so my mom asked me, 'Was it harder to come out to me, or to tell me you wanted to wear your hair different?'" she said. "I was like, 'It surprisingly was harder to tell you that I wanted to wear my hair different."
This sweet kid. Protect her at all costs, please.
Even though Siwa is growing up and changing her appearance to reflect that, don't worry — she's not completely done with bows, her most iconic look, just yet.
"The bow is still a part of my life," she said. "I still love bows. I forever will. I mean, they're who I am. But I just, you know, maybe I won't wear it every day."