JoJo Siwa Opens Up About Coming Out: 'I'm The Happiest I've Ever Been'
by Kristine Cannon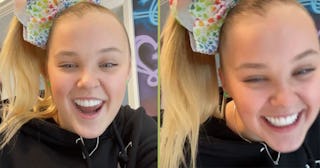 JoJo Siwa/Instagram
"Coming out has this stigma around it — that it's this really, really scary thing, but it's not anymore"
Just a day after JoJo Siwa took to Twitter to post a photo of herself in a "Best. Gay. Cousin. Ever." T-shirt, seemingly coming out to fans, the 17-year-old pop star and YouTube personality has taken to Instagram Live to open up about her sexuality, saying, "Personally I have never, ever, ever been this happy before, and it feels really awesome."
"I've been happy for a little bit now," Siwa continued. "It's just so, so, so awesome. You guys probably haven't seen me this happy since I was on tour."
During the IG Live, Siwa answered fans' questions, including, "What label are you?"
"I have thought about this, but the reason I'm not going to say this answer is because I don't really know this answer," Siwa responded. "I think humans are awesome, I think humans are really incredible people. Right now, I'm super duper happy and I want to share everything with the world but I also want to keep things in my life private until they are ready to be public."
Siwa continued to say that what matters to her right now is that her fans know that "no matter who you love, that it's OK."
"It's awesome and the world is there for you. There are so many people that are there for you," she said. "I know everyone's situation is different and it might be harder for some people and easier for some people to come out or be themselves, but I think coming out has this stigma around it — that it's this really, really scary thing, but it's not anymore. There are so many accepting and loving people out there that it's OK."
According to a 2020 Trevor Project study, 78 percent of LGBTQ youth report having access to at least one in-person LGBTQ-affirming space, and 86 percent of LGBTQ youth report having high levels of support from at least one person. Of course, other — more concerning — statistics exist, including that one in three LGBTQ youth reported that they had been physically threatened or harmed in their lifetime due to their LGBTQ identity, according to the same study, and that 40 percent of LGBTQ respondents seriously considered attempting suicide in the past 12 months.
"Of course, people are going to say it's not normal, but nothing is normal. Literally not one thing about anybody is normal and it's OK not to be normal, it's OK to be a little different, it's OK to be a little weird, strange, different. That's something we should never, ever be afraid of. That's something we should be proud of," Siwa told fans. "I'm the happiest I've ever been, that's what matters."
For Siwa, her support includes her parents.
"My parents have known," she said. "My mom said she's known for the last two years. She's like, 'I just know with you!' She's like around two years ago, she was like, 'I don't think you only like boys, that's totally OK.' But they've always been so everything, over the top."
As for "how long she's been part of the LGBTQ community?" as one fan asked, Siwa said she simply didn't know.
"I think my whole life," she said with a laugh. "Because my whole life, I've really really been, I just liked people, but I have never fallen in love before. But I always believed that my person was just going to be my person. If that person happened to be a boy, great! And if that person happened to be a girl, great! I think I'm just really happy. I think in life you know when you meet your person, I really do."
Siwa also shared some advice her dad gave her.
"Like my dad said, 'Love is universal,'" she said. "You guys can love whoever you want to love, and you guys can do in life whatever you ever want to do. You can dream a dream and make that dream come true, no matter what."
"Just be happy," Siwa continued. "Happiness is sometimes really hard. If something makes you happy, enjoy it. Just enjoy it, live in the moment. Don't think too much, just kinda live. Life is not short until it is."