'I Am Very Much So Gay': JoJo Siwa Opens Up About Coming Out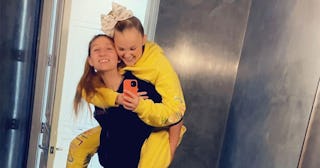 JoJo Siwa/Instagram
In a new interview, JoJo Siwa opened up about how she knew she was "never straight," and what it was like to come out as LGBTQ earlier this year
Back in January, teen queen JoJo Siwa came out as gay to her millions of fans and followers, a move she knew could have cost her public support and upset the parents of her young fanbase. On the first day of Pride Month, the newly-minted 18-year-old opened up about her experience coming out on such a global scale, and how it was her girlfriend who encouraged her to share her true identity with the world, despite knowing she might get criticism or pushback from homophobic followers.
Siwa appears on the cover of Entertainment Weekly's June digital edition, sharing that she's known since she was a child that she was "never straight." But it seems she never planned on coming out publicly until she was in a relationship, noting, "I told myself for a long time… 'If I have someone to come out with, then I will come out.'"
Siwa was aware that the January social media posts were going to "out" her, but it was her girlfriend of a month, Kylie Prew, that she was most concerned about. She told Prew that "we're waiting until you're 100 fully percent ready, because there's no turning back," to which Prew replied, "I was ready yesterday."
After tweeting a photo of herself wearing a t-shirt that read "Best Gay Cousin," which she'd already shared privately to her Instagram Close Friends list, she told the magazine she recalls thinking, "'I just did that… Everyone's going to kill me. But I don't care. It'll be fine.' And it was never scary to me to put out to the world that I was happy or I was in love."
She added, "If everything was to go away because of it, because of me being happy, then it's not meant for me," sharing that she's "finally the happiest that I've ever been."
Of course, her announcement was met with love and support from all corners of the world, including from famous names like Kim Kardashian, Joe Jonas, Lil Nas X, and others, and it seems she's hoping to channel her newfound happiness into her forthcoming music. She shared, "About a year ago, I started having all these music meetings just for fun, just getting my head where I want to go. And I told all these producers, 'I want to create gay pop, and I want to have a concert for the girls and for the gays.' Turns out a year later, I am very much so gay."
Siwa being so open and honest is surely meaningful and important to her fans who might be figuring out their own identities, hopefully helping other young LGBTQ+ teens feel safer in their own coming out experiences. Props to her for her candor — and we're so ready for that gay pop album to drop.