JoJo Siwa Made History On 'Dancing With The Stars' Last Night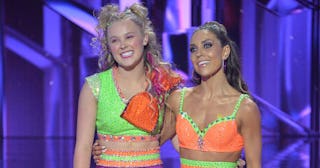 Eric McCandless/ABC
JoJo Siwa's first dance on Season 30 of Dancing With the Stars made history for the American version of the show
In case you missed this news, JoJo Siwa is competing on the current, 30th season of Dancing With the Stars. And when the YouTube star and hair bow mogul took to the stage last night for the first time, she made history — she's the first person ever to compete on the American version of the show with a same-sex dance partner. Siwa and her partner, Jenna Johnson, performed a quick-step for their first dance, and it was everything.
For one, the quick step is a dance that basically is who Siwa is as a person: High-energy, enthusiastic, and incredibly fun to watch. She and Johnson also danced to Jet's hit song "Are You Gonna Be My Girl," which made the moment feel all the more poignant and historic.
Unsurprisingly to anyone who watched the dance, Siwa and Johnson ended up nabbing a 29 out of 40 — the highest score of the night. It's clear that this couple will be sticking around for a while, and will be one to watch as a serious contender for the Mirror Ball.
In her video package before the dance, Siwa explained why she thinks her background on Dance Moms is unlikely to help her much on the Dancing With the Stars stage.
"This is a whole new ball game for me. I've never done anything ballroom before. It's a learning experience that I'm more than ready for," she said. "I explain it as a football player trying to play basketball. I also think, too, I'm going to be judged a lot harder."
Siwa also talked about her history-making partnership and how it came to be.
"For the first time in Dancing with the Stars history, I am dancing with another female, and I'm really, really proud. I came out in early 2021 and what I love to do is make truly being who you are easier for kids," she said. "They asked, would I be more comfortable with a female or with a male and immediately I knew for myself I would be way more comfortable with a girl. I have a chance right now to make history and to break down a barrier and there's nothing that I would rather do than that."
We're so glad Siwa is brave enough to tackle that barrier head-on, and that her courage can make her an even better role model for all her fans, young and old.