JoJo Siwa Shares Her 'Gay Awakenings' With Demi Lovato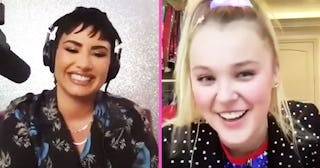 Demi Lovato/Youtube
JoJo Siwa shares her "gay awakenings" on 4D With Demi Lovato
JoJo Siwa came out just a few months ago — but the realization that she was gay was already several years in the making. The 18-year-old opened up to Demi Lovato about the moment she first began to question her sexuality, and like so many life-changing events, it naturally had to do with Ginuwine's Pony.
"I've been figuring out my gay awakenings recently. I think I realized that my very first gay awakening was Jenna Dewan's performance on Lip Sync Battle," Siwa explained during the 4D With Demi Lovato podcast. "I think that was one of them."
The 2016 clip she's referring to features Dewan bumping and grinding across the stage to "Pony" in a nod to her ex Channing Tatum's famous scene in Magic Mike.
Dewan is stunning, and I'm sure Siwa wasn't the only person out there who had a sexual awakening watching her perform — pretty much every person in the studio looks like they're ready to risk it all for her.
Siwa also said that Lovato's bisexual anthem "Cool for the Summer" made her feel some type of way as well. "Do you remember your dancer, her name is JoJo Gomez, and you did 'Cool for the Summer' together? I remember seeing that and just being a little too interested," Siwa joked. The admission made Lovato literally scream with delight — especially since it was also their way of indirectly opening up to their fans about their own sexuality.
"That song for me was actually my way of sharing with the world without confirming that I was bisexual," Lovato said. "I'm so happy that you could see a little glimpse of that pride through that performance."
Siwa is now happily coupled up with her best friend turned girlfriend Kylie Prew, and she said she hoped anyone out there struggling with their feelings or their sexuality follows her lead and chooses to live their truth.
Lovato agreed: "There have been so many times in my life I have stifled down who I want to be and who I want to love because I wanted to conform to what society thought I should be with or love or do… You chose authenticity," they praised Siwa.
As two stars with legions of young fans, both Lovato and Siwa risked career repercussions for opening up — but both said it was absolutely worth it. "You can't hide for forever," Siwa explained. "It's better to just say it now… When the time is right, don't chicken out… just do it."