JoJo Siwa Introduces Girlfriend Kylie On Their One-Month Anniversary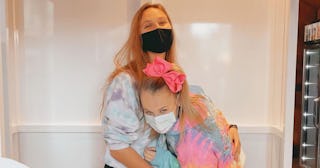 Jojo Siwa/Instagram
The 17-year-old social media star dedicated an Instagram post to her girlfriend for the one-month anniversary of their relationship.
There's cute, there's adorable, and then there's the otherworldly charm of JoJo Siwa. The sweet ball of energy made headlines last month when she came out as part of the LGBTQ community.
And now, JoJo Siwa has introduced her fans to her girlfriend, Kylie, in a post on Instagram.
"After being my best friend for over a year, January 8th 2021 I got to start calling this exceptional human my Girlfriend… and Since then I've been the happiest I have ever been!" Siwa wrote in the post.
Siwa shared three so-cute-you-could-just-die photos of the couple along with a sweet video of them singing along to Justin Bieber's "As Long as You Love Me." The peppy teen also shared a TikTok video of the two cuddling, captioning it, "I did it!!😭❤️ my human. It's been 1 month since my best friend asked me to be her girlfriend, and it's been the best month ever. I love you☁️."
"She seriously is the most loving, supportive, happiest, protective, and just the most beautiful perfect person in the world. And I get to call her mine! Happy one month to my girl! I love you more and more everyday [sic]!" she finished on her Insta post.
Fans unearthed a lovely message JoJo left on Kylie's Insta: "The best ever. I'm so lucky you're my human. I love you forever and ever"
On Feb. 3, Siwa confirmed their relationship while making a virtual appearance on The Tonight Show Starring Jimmy Fallon.
"About 10 minutes before I came out to do this interview today, I was again on the phone with my girl and I started crying. She's like, 'What's wrong with you?' And I was like, 'I'm just so happy because now I get to share what makes me the happiest with the world, and it makes my heart so happy,' " Siwa said.
Bearing her trademark smile, Siwa told Fallon that she appreciated the support her girlfriend offered her.
"I do have the most amazing, wonderful, perfect, most beautiful girlfriend in the whole world. It's not something I'm ashamed of, I just haven't shown the internet yet,' " she said without revealing her girlfriend's name or any other information about her "super encouraging" partner.
"Personally I have never, ever, ever been this happy before and it feels really awesome. I've been happy for a little bit now. It's just so, so, so awesome," she excitedly shared, later adding: "I have never fallen in love before. But I always believed that my person was just going to be my person. If that person happened to be a boy, great! And if that person happened to be a girl, great! I think I'm just really happy. I think in life you know when you meet your person, I really do."
Also during her Tonight Show interview, Siwa told late-night host Jimmy Fallon that she felt immense support from her girlfriend.
Fans immediately took to Instagram to congratulate the couple. "Fall in love with your best friend," one post read.
"Happy one month to these babies we love you girls so much!" another wrote.
One Instagram user posted a TikTok video so cute, you just might cry. "IM SO HAPPY @itsjojosiwa," the post reads. "I'm so happy for you Jojo that you found somebody who makes you feel so special and happy. I love you so much and wish you two all the best. I'm so proud of you for becoming who you truly are."
In January, Siwa opened up to her followers about coming out after she showed off a new T-shirt read "Best. Gay. Cousin. Ever."."