JoJo Siwa Absolutely Slays As Prince Charming On 'DWTS' Disney Night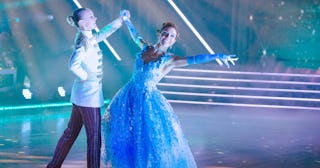 Eric McCandless/ABC
JoJo Siwa took on Disney Night on 'DWTS' by performing a stunning Viennese waltz dressed as Cinderella's Prince Charming
Is there anything JoJo Siwa can't do? The former reality star, YouTube queen, and hairbow mogul is currently proving that there is not by absolutely crushing her run on Dancing With the Stars — as if anyone thought she wouldn't. This week, the stars danced for "Disney Heroes Night," and Siwa's Cinderella-themed Viennese waltz was simply stunning to watch.
For the dance, Siwa dressed up as Prince Charming, while her partner, pro dancer Jenna Johnson, took on the role of Cinderella. Watching the two glide around the dance floor, I legitimately had chills — and there were a few moments where I was so lost in the magic of their dance, I almost thought I was watching the real Cinderella and Prince Charming fall in love on the dance floor at a ball.
Here, just watch for yourself.
If you didn't find that absolutely beautiful, do you even have a heart?
Unsurprisingly, that dance earned rave reviews from the judges. Derek Hough called Siwa's performance, "clean and a breath of fresh air." Bruno Tonioli added that their waltz felt like it was bringing the entire dance style into the 21st century. As the judges revealed their scores, Siwa and Johnson celebrated at earning the first 9s of the season, for a combined total of 35. It's clear that these two are frontrunners this season.
And the judges weren't the only ones who were impressed with that dance. Viewers also couldn't get enough of it, and immediately took to social media to share their joy over Siwa's jaw-dropping performance.
But more than that, people pointed out how important Siwa's run on the show is for LGBTQ+ representation. She's already making DWTS history by being the first person ever to dance with a same-sex partner in the American franchise of the show. But seeing her dancing so beautifully in her Prince Charming role was so inspiring, too.
Siwa and Johnson ended up tying for the top score of the night, after Olivia Jade's samba also earned a few 9s and a combined score of 35. The next few weeks will tell who will end up coming out on top in the battle for the Mirror Ball, but if you ask us, Siwa is already winning in all the ways that matter.