Jon Ossoff's Wife Worked Her Shift As An OB/GYN On Election Night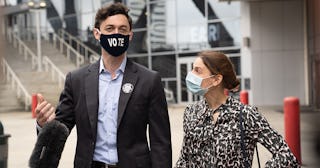 Megan Varner/Getty
Senator-elect Jon Ossoff's wife was working an overnight shift as an OB/GYN the night her husband won the Georgia election
Yesterday, Georgia made history when Democratic Senate candidates Jon Ossoff and Raphael Warnock won their runoff elections against the republican incumbents and although the Capitol coup took center stage last night, we're sure Ossoff and Warnock and their families did a private victory dance, except for Ossoff's wife Dr. Alisha Kramer, who had to go to work as an OB/GYN, because oh right, time doesn't stop just because someone's spouse is now a high profile public-servant.
From Jill Biden to Dr. Alisha Kramer, we are loving the public acknowledgement (and celebration) of political spouses who just go about their business and continue to do their jobs, because why would you call out of work when your spouse gets a promotion? Just go to a nice dinner like a regular person and celebrate — no need to stop being a doctor because your husband did a good thing at his job?
According to Senate.gov, "until the 1960s, very few Senate spouses pursued their own professional careers or had outside employment." And yet, here we are, in 2021, still a little pleasantly surprised that a political wife has her own job and life that doesn't revolve around her husband's life as a public servant. Come to think of it, it's actually low-key insane that we expect political spouses to just, stop working and dedicate their lives to their spouses careers? Normalize political spouses (and especially wives) having full lives and careers of their own!
Atlanta reporter Patricia Murphy shared the story online that while Ossoff was celebrating his win, his wife was like, cool, congrats, but I gotta go to work. Kramer is a resident in the Department of Gynecology and Obstetrics at Emory University School of Medicine and as the returns rolled in, she worked a regularly scheduled overnight shift.
So Ossoff is the cool millennial democrat from Georgia and his wife is a career-focused doctor who is changing the definition of what it means to be a "Senate wife" or "Senate spouse."
During a Facebook Live back in October, Ossoff and Kramer together addressed various healthcare questions from Ossoff's constituents and Kramer was able to answer questions about the ACA and the healthcare response to the COVID-19 crises better than any politician, because duh, she's an actual doctor. Also in that interview, Ossoff called Kramer "my favorite person in the whole world, my best friend, my wife, the amazing Dr. Alisha Kramer, OB/GYN, who is my hero and my role model and my guide."