Jonah Hill Asks Fans To Stop Commenting On His Body, Period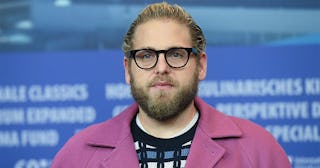 Stephane Cardinale/Corbis/Getty
Jonah Hill shared a straightforward message with fans on social media, asking them to simply stop commenting on his body
As someone who has been in the public eye for the better part of the last decade and a half, Jonah Hill has been a staple in both buddy comedies and prestige films alike, but his celebrity status has, unfortunately, opened him up to tabloid speculation and chatter about his appearance. Now, he's sharing a straightforward message on social media, asking fans and followers to simply stop commenting on his body in any matter — and we're straight-up cheering over this.
On Wednesday, October 13, Hill shared a succinct message on his Instagram page, writing, "I know you mean well but I kindly ask that you not comment on my body," adding, "Good or bad I want to politely let you know it's not helpful and doesn't feel good. Much respect."
The message received tons of support from fans and Hill's famous friends alike, who took to the comments section to applaud him for pointing out what should be obvious, but still remains lost on so many people. There's truly no reason to comment on someone's body ever, as even well-meaning comments can cause discomfort. Body commentary often comes with it plenty of internal biases that perpetuate societal stigmas — and the underlying message that our appearance is what makes us valuable.
In recent months, Hill has been candid about the work he's doing to love and accept his body, a journey he shared has taken him until his mid- to late-thirties. Back in February, a U.K. tabloid shared photos of him enjoying a day of surfing while low-key body shaming him in the process. Hill proudly shared the pics on Instagram, writing in the caption of his post that he didn't take off his shirt to go into the water until his mid-thirties, adding that it "probably would have happened sooner if my childhood insecurities weren't exacerbated by years of public mockery about my body by press and interviewers."
"So the idea that the media tries to play me by stalking me while surfing and printing photos like this and it can't phase me anymore is dope," he continued. "I'm 37 and finally love and accept myself. This isn't a 'good for me' post . And it's definitely not a 'feel bad for me post'. It's for the the kids who don't take their shirt off at the pool. Have fun. You're wonderful and awesome and perfect. All my love." He capped off his chef's kiss of a post by adding, "Oh and Daily Mail, not even you can take that smile from my face ;)."
Then in August, he immortalized his newfound body love by getting an amazing body-positive tattoo on his upper back that reads, you guessed it, "body love." In the photo, Hill looks radiant and joyful, which is no doubt a testament to how hard it can feel to love yourself in a world that's constantly telling you how you can improve.
His post should certainly serve as a reminder that it's never cool to comment on someone else's appearance. Body-shaming comes in all kinds of subtle and low-key insidious forms, and it's long past time to put that shit behind us. Bravo, Jonah!