The Jonas Brothers Dropped Their New Music Video And People Are Fully Freaking Out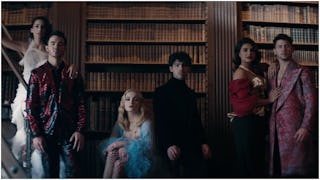 Image via Jonas Brothers/YouTube
The Jonas Brothers have officially reunited and their new music video is a fancy, lavish dream
Alright, everybody, I'm going to need you to take a long, deep breath. The Jonas Brothers have reunited and they just dropped their brand new music video "Sucker." It'll make you just as happy as the first time you watched Camp Rock – only this time Priyanka Chopra is involved.
It's been six years since the Jonas Brothers released new music. According to their spokesperson, they broke up in 2013 because of a "deep rift in the band" and "big disagreement over their music direction." Thankfully, that's all in the past. The three reunited for a royally lavish music video, featuring their three respective partners – Priyanka Chopra, Sophie Turner, and Danielle Jonas.
If all you need on this chilly Friday afternoon is a very catchy song, a really fancy castle, and the Jonas Brothers lounging in a bathtub, then "Sucker" is here to deliver.
The guys excitedly took to Twitter to share the news.
Unsurprisingly, everyone on Twitter were feeling lots and lots of feelings about getting the band back together. Mostly, though, people wanted to talk about how ridiculously fabulous Chopra, Turner, and Jonas looked. I mean…did you see that dress made entirely of tutu material?
There's a lot more where all of that came from. We also got a behind-the-scenes video, which will make you immediately want to pack up, head to the English countryside, and wear a lot of red lipstick and tulle.
Also here's some very necessary and very cute footage of their dad rocking out to "Sucker" while lying in bed.
Fans can expect lots and lots more Jonas Brothers content coming their way soon. During an interview on Elvis Duran's radio show, Joe Jonas revealed that the guys have been putting in plenty of work in the studio.
"When we started to figure out what the sound was going to be like—balancing Nick's sound, DNCE's sound, and to be truthful, Kevin bringing so much heart into this." he said. "It's been incredible—his stories, his family, and everything that he has going on now, it was really important to be able to blend the three and so, we have probably 30, 40 songs recorded that we can't wait to release."
Okay, impatiently waiting for all of these songs to come out. In the meantime, gonna go re-listen to "S.O.S" one million times.